We spent 10 glorious days exploring this beautiful country and have created a detailed 10 day Georgia Itinerary, trying to cover as many sights as possible.
Also Read: Fancy a mind blowing road trip across Georgia, Armenia and Azerbaijan? Here is your detailed itinerary. (Tips Included!)
WHY YOU SHOULD SPEND 10 DAYS IN GEORGIA
Most tourists limit their trip to Tbilisi-the capital and Gudauri. But if you want to experience the wine region-Kakheti, paraglide along Mt.Kazbegi, river raft down Martvili Canyon, sunbathe on the shores of the Black Sea, witness the dinosaur footprints at Sataplia, you will need at least 10 days here
BEST TIME TO VISIT GEORGIA
If you enjoy lush greenery with snow peaked mountains, you should plan your visit from June until August. If you are in Georgia for the snow, you can visit from November until March. You can get live updates on snow fall in the mountains from Gudauri LIVE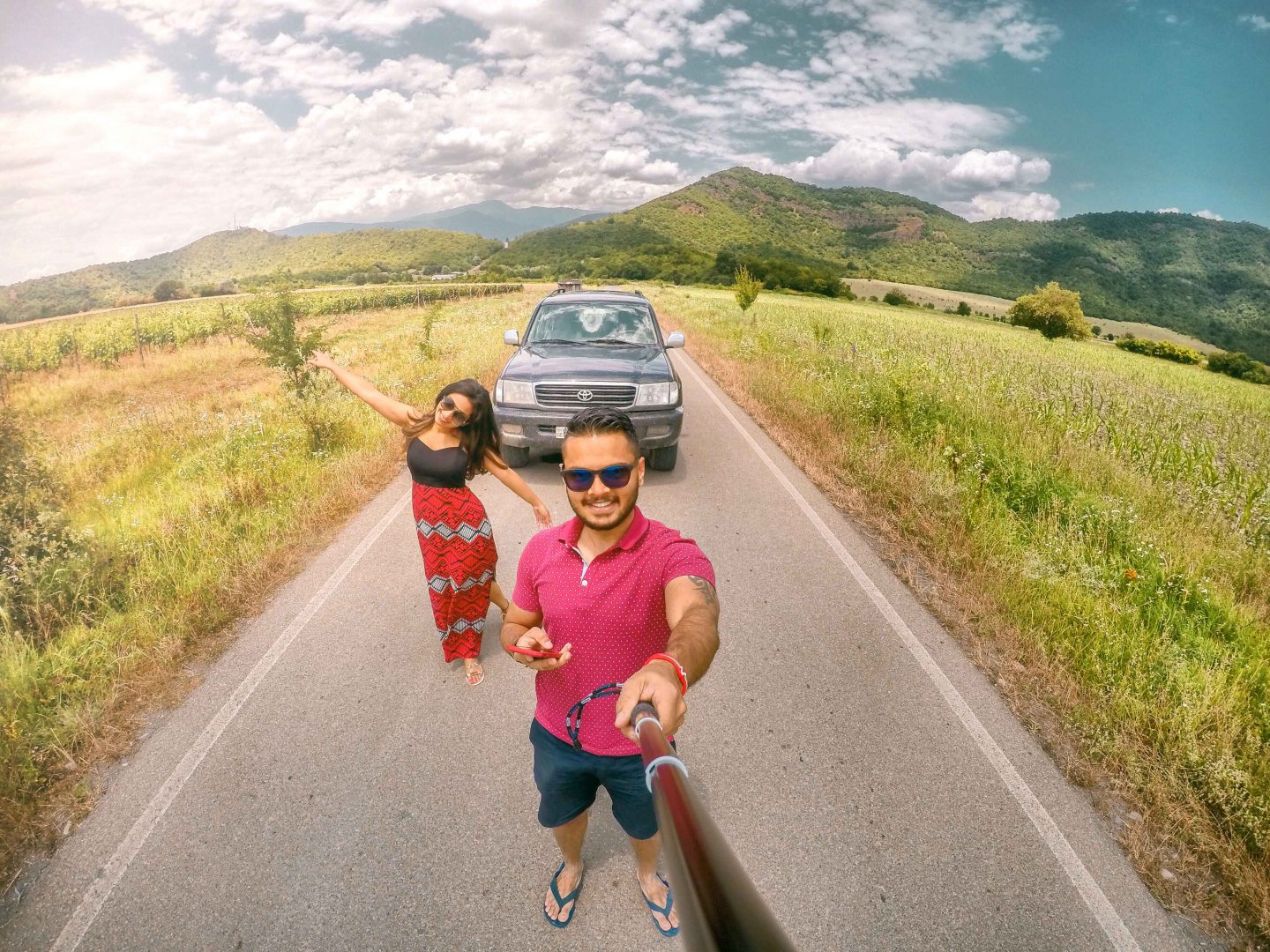 HOW TO GET TO GEORGIA
Here are the list of 94 countries whose citizens can stay for up to 360 days without a visa. Indian nationals need to apply for an E-visa to enter Georgia. FlyDubai, Wizz Air, Turkish Airlines, Aeroflot, Air Arabia, Emirates, Air France, S7 Airlines have frequent flights to Georgia. Find the best flight deals on SkyScanner
HOW TO GET AROUND GEORGIA
In this Georgia itinerary, you have the option to either base yourself in Tbilisi and do day trips or stay a night or two at your most preferred locations.
On the day you land in Tbilisi, go day trip shopping at Freedom Square. You can also rent a car or car with driver here. Haggle please!
WHAT TO PACK FOR GEORGIA
If you are visiting Georgia in Spring, you can pack summer clothes with light cardigans. The mountain ranges will be cold throughout the year with the temperature dropping to 9C in Spring so pack a few winter clothes and a windbreaker.
While visiting Churches, you need to cover your head, shoulder and knees, Most churches keep scarfs and wrap around sarongs outside for visitors.
YOUR 10 DAY GEORGIA ITINERARY
ITINERARY AT A GLANCE
Day 1 & 2 Tbilisi
Day 3 Mtskheta-Mtianeti Region/Gudauri
Day 4 Kakheti
Day 5 Tbilisi
Day 6 & 7 Batumi
Day 8 Kutaisi
Day 9 Tbilisi
Day 10 Time to head home
Also Read: 10 Fun Things To Do In Georgia
DAY 1 & 2 TBILISI
Where To Stay: |Urban Boutique Hotel|Courtyard By Mariott|
How to Travel Within Tbilisi: WALK
Tbilisi is a vibrant city full of life with warm & friendly people and one of the most popular places to visit in Georgia among tourists. You might come across very few natives who speak english, yet they are more than willing to help and make you feel welcome.
The best way to discover this city is by foot. Driving within city limits can be borderline crazy. Cabs are cheap, though they might take you for a ride literally, so checking with a local on the fare structure can help haggle. Most international flights fly to Tbilisi, so you can start off with Tbilisi and do a full circle.
HIGHLIGHTS OF TBILISI
Rustaveli Avenue
Tbilisi Funicular
Freedom Square
Old Tbilisi & The Bridge of Peace
Try the Chicken Stew Boat Khachapuri at

Samikitno Rest

near Freedom Square
Try the Kindzmarauli Wine from

Tsangala's Wine Shop

, Shavteli Street
Mamadaviti Church
Narikala Fortress
DAY 3 -MTSKHETA-MTIANETI REGION (GUDAURI)
Where To Stay:|Rooms Hotel Kazbegi|
How To Travel: |Self Drive|Day Trip|Local Minibus From Didube Bus Station Tbilisi|
Head to the Kazbegi mountain ranges with a stop over at Ananuri, which is a UNESCO Heritage site. The castle itself is breathtaking with stunning views of the Aragvi river.
It is believed that Christianity was first preached in Georgia during the 5th century and with a majority of Christian population, Georgia has numerous beautiful churches.
The trip to Kazbegi takes about 4.5 hours from Tbilisi and the drive is nothing short of stunning, with green mountains, patches of snow, fresh water rivers, grazing herds of sheep and cattle and the magical drive through the clouds.
THE HOLY GERGETI TRINITY CHURCH
The Holy Gergeti Trinity Church in Gudauri is a must visit for anyone venturing into this area. The church is at an elevation of 2170 m under Mount Kazbegi. You can either trek up to this church which takes about 3-4 hours or take a local taxi.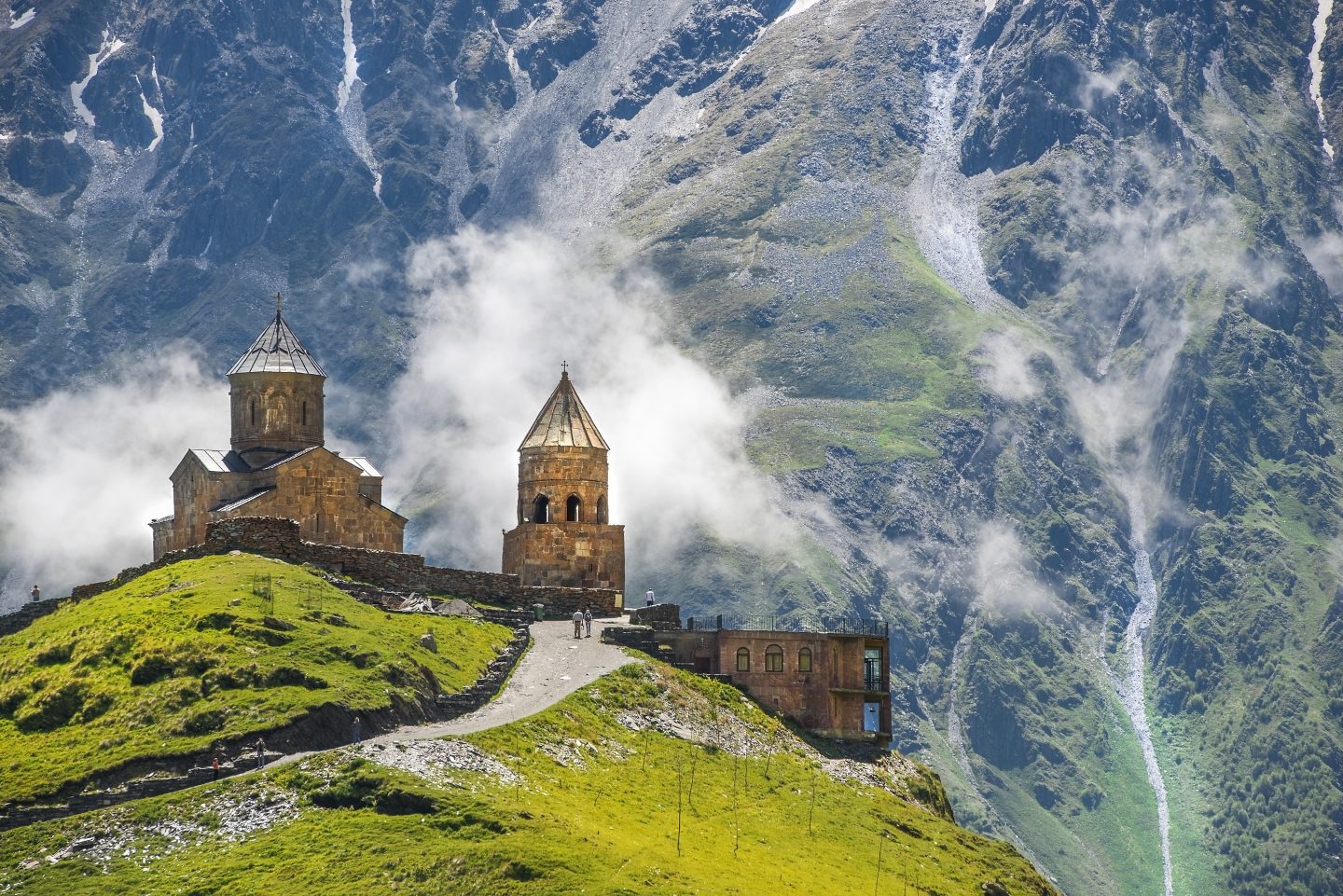 Now the local taxi's used here are extremely old beat up Russian Lada's which are well past their prime. Be prepared for a rough ride but the view that awaits you at the top is totally worth all that & more. This region is also a popular ski destination.
HIGHLIGHTS OF MTSKHETA-MTIANETI REGION
Stepantsminda (Holy Gergeti Trinity Church)
Gudauri
Ananuri
Georgian-Russian Friendship Monument
Gudauri Recreational Area- Paragliding (Highly dependent on weather/wind conditions)
Skiing
DAY 4 KAKHETI- THE WINE REGION
Where To Stay: |Hotel Sweet Home B&B|Schuchmann Wines Chateau & Spa|
How To Travel: |Self Drive|Day Trip from Tbilsi|Local Minibus From Ortachala bus station Tbilisi|
Kakheti is solely for the wine lovers. One of Georgia's premier wine producing areas, Kakheti, will be your ideal happy-hazy part of the vacation.
Most wine cellar visits here would involve a tour of the premises, history of wine and a couple of freebies in the name of wine tasting. The best vineyard in the area is that of Winery Khareba
HIGHLIGHTS OF KAKHETI
¥ Monastery Tours-David Gareja Monastery Complex
¥ Winery Khareba Tour
DAY 5 TBILISI
This stopover at Tbilisi is essential for your Batumi Trip. You can either take a train to Batumi from Tbilisi (5 hours) or rent a car and enjoy a nice long drive.
DAY 6 & 7 BATUMI
Where To Stay:|Divan Suites|
How To Travel: |Self Drive|Train from Tbilisi|
Batumi is a seaside city by the Black Sea coast and the capital of Adjara Region, close to the Turkey border. It is about 8 hours of drive from the capital city.
If you enjoy a bit of gambling, this is one of the top places to visit. Plan at least 2 days here just to enjoy this beautiful coastal town. What we loved here was the Black Sea cruise and the long walks by the Batumi Boulevard.
HIGHLIGHTS OF BATUMI
Batumi Boulevard

– Boulevard itself has so much to offer from restaurants to beach shacks, arm wrestling competitions, Chess matches, Scooter rides, Ferris Wheel, Skateboarding to name a few
Cruise along Batumi Coast
DAY 8 IMERETI REGION
How To Travel: |Self Drive|Local Minibus from Batumi|
Three hours from Batumi, this city is the third biggest in Georgia after Tbilisi and Batumi and has an international airport. One of the popular attractions here is the canyons.
Martvili Canyon is an hour away from Kutaisi, and river rafting here is safe and child friendly. Just a few minutes away from Martivili is the Okatse Canyon. A 1km long walkway suspended along the edge of this canyon enables visitors to explore this natural wonder and its beautiful waterfalls. A word of caution here for people with Acrophobia,the pathway though sturdy does not give the same impression and can get pretty scary.
Sataplia cave is a must visit for all dinosaur enthusiasts. Dinosaur footprints were discovered in early 1935 and preserved till date. Discovered in Imereti region in 1984, Prometheus Cave is one of Georgia's natural wonders to visit. This canyon is home to breathtaking views of stalactites, stalagmites, curtains, petrified waterfalls, cave pearls, and underground rivers.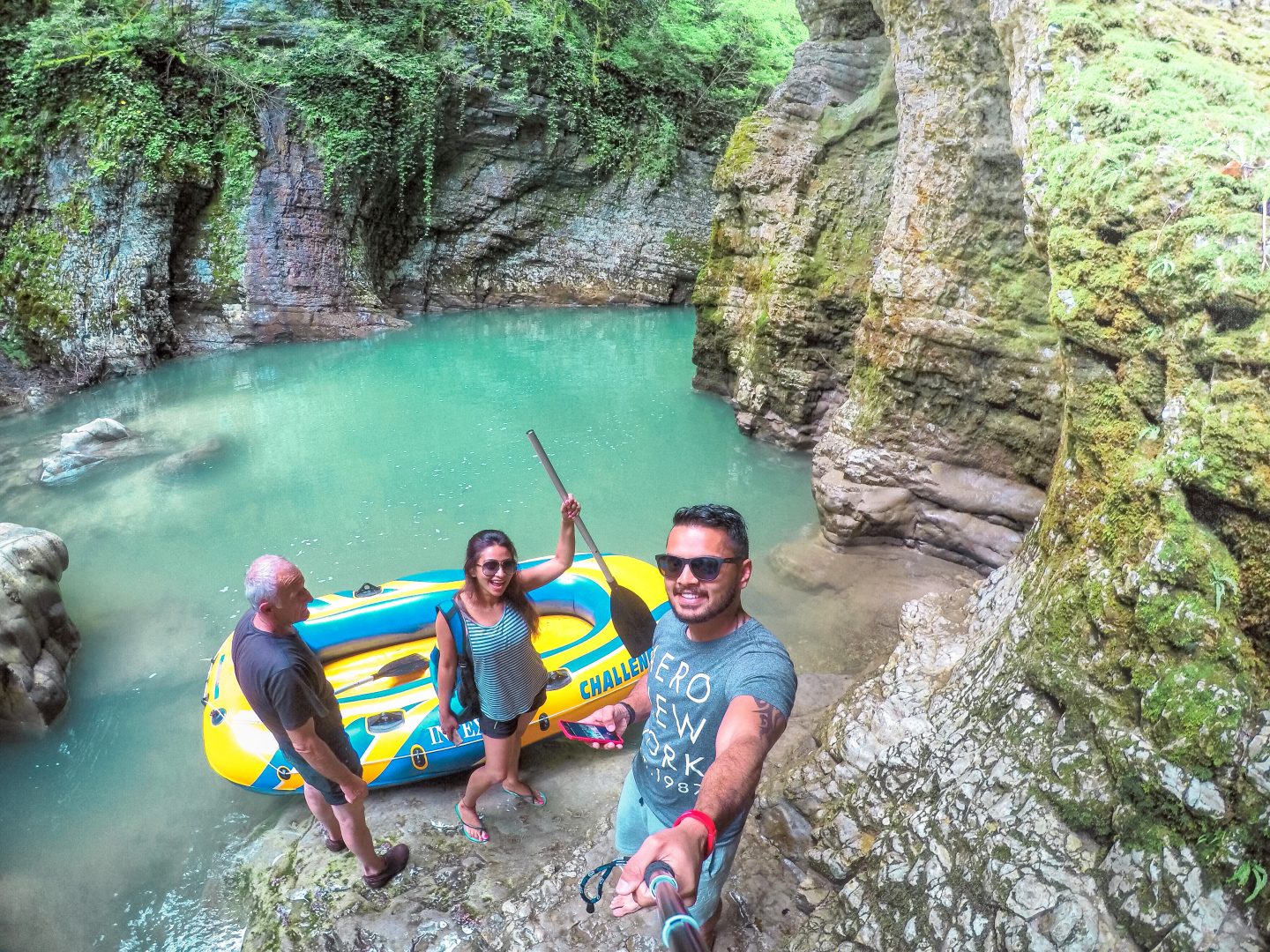 HIGHLIGHTS OF THE IMERETI REGION
DAY 9 & 10- TBILISI
How To Travel: |Local Minibus|Train from Kutaisi|
After a 8 day road trip, all you would want to do is relax, eat and shop for souvenirs. This is the ideal time to treat yourself to a Sulphur bath. As for souvenir shopping, the most popular are Wines, Grape Seed Oil, Churchkela to name a few. Caucasian carpets are also a popular item most tourists with luggage allowances end up buying.