"Welcome to Bruges, Everything here is over 600 years old!" That is how our hotel greeted us. A 1.5 hour train ride away from Brussels, we had just entered fairytale town. I am a sucker for fairytales and this little town is definitely a place one could live 'Happily Ever After'… Everything about this town is romantic, a perfect getaway to connect with your partner. Here is our list of the most romantic things to do in Bruges.
WHERE TO STAY IN BRUGES
We stayed at Ibis Brugge Centrum, a hotel that has moulded its modernistic facilities into a historic 19th century building. The view from our room was simply divine, almost postcard like. A perfect setting to enjoy breakfast in bed!
6 ROMANTIC THINGS TO DO IN BRUGES
ENJOY A HORSE DRAWN CARRIAGE RIDE THROUGH TOWN
When the town has such a romantic vibe, it is a given that a horse drawn carriage is the best way to enjoy this setting. Plan your trip during cooler weather and you can cozy up with your partner and enjoy the sights of the old town. Book your carriage tour here
TAKE A STROLL THROUGH THE GARDENS OF GODSHUIZEN
It is believed that people here live such pious lives, they are guaranteed a place in heaven. For me, it already looked like a piece of heaven. There is a beautiful chapel attached to this garden
LOCATION: https://goo.gl/maps/d1tAx2NACbSxYuS6A
ENJOY A DATE NIGHT AT THE MARKT
More or less a town square, this part of town is alive until the wee hours. That is something considering that the rest of the town pretty much shuts down by 7 PM or earlier. Though it is a fancy part of town, why not enjoy a fancy date night? Climbing the belfry or the bell tower here is also a definite must for the amazing aerial views of the city.
AHH! THE CHOCOLATE SHOPS
After all, when in Belgium, eat chocolates. Did you know that chocolate is a good aphrodisiac? Our absolute favourites were the Hot Chocolate at Jean De Bruges and The Old Chocolate House. As for chocolate spreads and chocolate liqueur, Mathilda's in the Markt is simply awesome.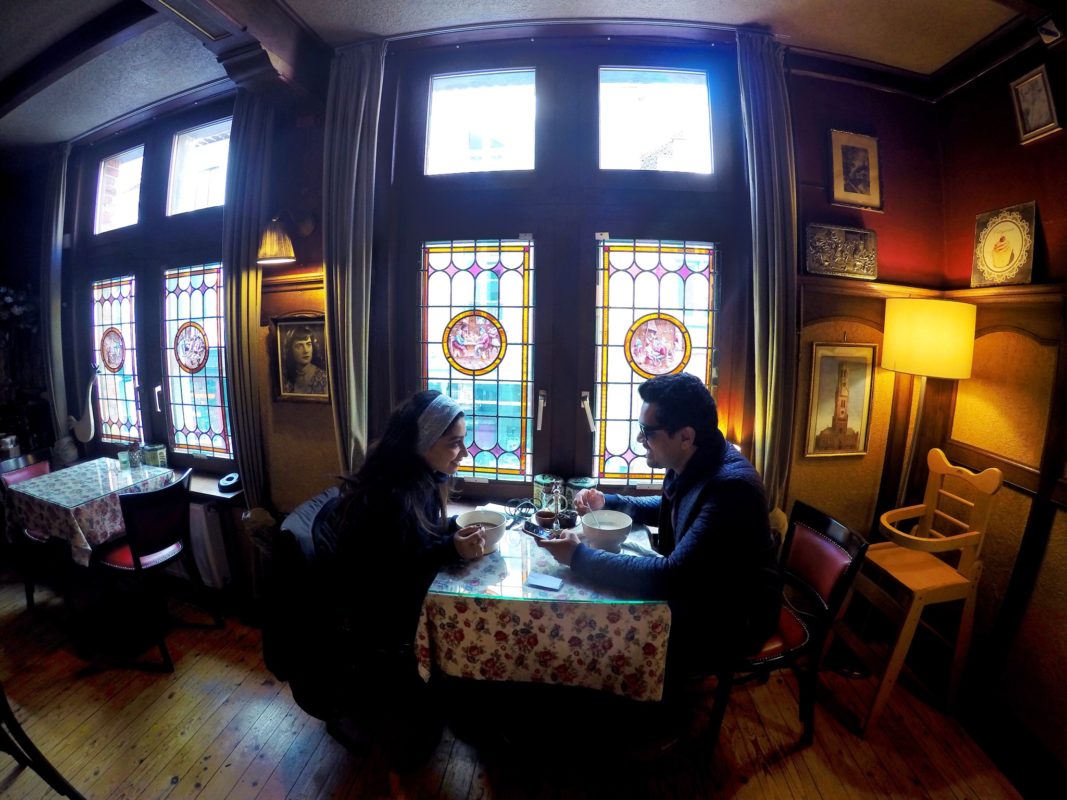 ENJOY BELGIAN BEER AT THE BEER WALL
Coconut beer anyone?
This legendary wall has more than 1100 beers on display. They offer a taste platter consisting of four strong/weak beers as per your choice at €10 and you can enjoy them overlooking the canal. Experimenting unheard-off beers together sounds romantic & fun, no?
CROSS THE MEESTRAAT BRIDGE FOR ETERNAL LOVE
If you have watched the cult classic, In Bruges, this is the bridge where Ray & Chloe share their first kiss. Legend has it that a young girl named Minna died trying to reunite with her lover here, so if you cross the bridge with your man, your love becomes eternal.
ENJOY A ROMANTIC BOAT RIDE AT THE BRUGES CANAL
Last but not the least on the list of 'romantic things to do in Bruges' is cruising the city's canals. Swans, the epitome of romance, can be found in plenty at these canals. The setting sure does call for a boat ride, to enjoy Bruges in all its splendor.