Naples in Italy can be explored in a day though eating your way through the city might take longer. So we planned day trips from Naples just so we could come back and dig into some delicious Neopolitan food every single day of our stay in the food capital of Italy. These day trips will guarantee the best of Southern Italy!
Also Read: 10 Insanely delicious foods to eat in Naples
10 HIGHLY RATED DAY TRIPS FROM NAPLES
1. PROCIDA- Italy's Colorful Island
Welcome to an Italian island that has not been broken by the wave of tourism yet. Smaller hotels, lesser number of restaurants and a more real Italian feel. Pronounced "Pro-Chee-Dah", this is the tiniest island in the Bay of Naples
How to get to Procida from Naples:
By Ferry: Three companies operate ferries between these locations. SNAV Aliscafi operates their crossing up to 4 times per day, Caremar 7 times per day & the Caremar (Hydrofoil) service is available up to 8 times per day.
By Road: It is under 2 hours drive from Naples.
2. SORRENTO- THE LEMON TOWN
A favorite among the likes of Byron, Dickens and Tolstoy, Sorrento is a compulsory pitstop for every traveller who visits this region. Though heavily touristy, the plunging cliffs, the cute little souvenir shops, cozy restaurants and many historical attractions make Sorrento an absolute must visit and one of the popular day trips from Naples.
Travel Tip: Dig into a nice plate of gnocchi alla sorrentina at one of the street restaurants and finish it off with a shot of ice-cold limoncello
How To Get To Sorrento from Naples:
By Train: Circumvesuviana train runs between Naples and Sorrento about every 30 minutes.
By Road: It is a one and half hour scenic drive to Sorrento. Downside of driving is parking, which continues to be an issue in Sorrento.
3. POSITANO- The Pearl Of The Amalfi Coast
An idyllic cliff side village in southern Italy, Positano is ranked as Europe's most expensive summer destination. Crowds flock here for a reason- its sheer beauty. When seen from sea, Positano rises like a colorful mirage against the sparkling turquoise sea.
How To Get To Positano from Naples:
By Road: Voted as one of the must do scenic drives in Italy, driving ensures that you will make multiple stops to enjoy its beauty
By Train: There are no direct trains to Positano. You need to get to Sorrento and then take a ferry or bus. The Sita bus company runs from Sorrento Railway Station along the coast, all the way to Amalfi with stops in Positano
4. RAVELLO- The City of Music
While other Amalfi settlements are on the coast, Ravello is atop a hill which guarantees uninterrupted views of the impossibly blue sea. Best thing to do here is climb the unending stairs around the town, dine at cute al fresco cafe's along the way and enjoy the views at the Terrace of Infinity and the gardens of Villa Cimbrone. Ravello is also famous for its music festivals.
How to get to Ravello from Naples:
By Train: You can take a train to Sorrento and then take a bus or ferry to Ravello.
By Road: The one hour drive from Naples to Ravello is highly rated.
5. CAPRI- The Billionaire's Island
A favorite destination among the super rich and celebrities, the island of Capri is one of the most aesthetically pleasing islands in Italy. It looks like a perfectly staged set with not a leaf out of place. The famed chair lift and Blue Grotto here are major crowd pullers.
How to Get to Capri from Naples:
By Ferry: There are two ports in Naples where passengers board the ferry for Capri: Calata di Massa for slow & normal ferries, and Molo Beverello for high speed ferries.
By Car: It is a one hour drive from Naples
6. ISCHIA- The Green Island
While Capri is a favorite among tourists, Ishchia is a favorite getaway for the locals for decades.The largest of the volcanic islands in the Bay of Naples, Ischia is prized for its rich natural beauty, thermal spas, and sandy beaches. Due to the numerous pine trees and the rich Mediterranean vegetation, it is popularly known as the Green Island.
How to get to Ischia from Naples:
By Ferry: Ferries depart from two ports in Naples- Naples Beverello and Naples Porta di Massa. You can find the updated timetable here
7. Vietri Sul Mare
Le Vigne di Raito, a certified biologic/biodynamic vineyard in a small town in Raito, also characterized by the presence of lemons, ancient olive trees, strawberry trees, viburnum, oaks, myrtles, laurel, pomegranates, in addition to the vineyards, is the most popular attraction here among wine enthusiasts.
This is also the heart of ceramics production in Italy. The perfect place to pick up a few souvenirs.
How to reach Vietri Sul Mare from Naples:
By Train: The best and cheapest option is to take a train from Napoli Centrale.
8. THE RUINS OF POMPEII
It is not everyday that you get a chance to explore a once thriving Roman city that got buried under the volcanic ash and rock due to the violent eruption of Mt. Vesuvius in 79 CE.
Also Read: Love exploring Roman ruins? Then you must take a trip to Jerash in Jordan
How to get to Pompeii from Naples:
By Train: There are direct trains 2-3 times every hour from Napoli Centrale and it is just under half an hour drive.
9. MOUNT VESUVIUS- The Sleeping Giant
You absolutely cannot visit Pompeii and Mt. Vesuvius in a day as there is a lot of walking on both these sites, that's why we have decided to list them as two separate day trips.
Many people who visit Naples give this a miss, but hiking up an active volcano should definitely on your bucket list. It is a medium hard climb and quite a bit steep.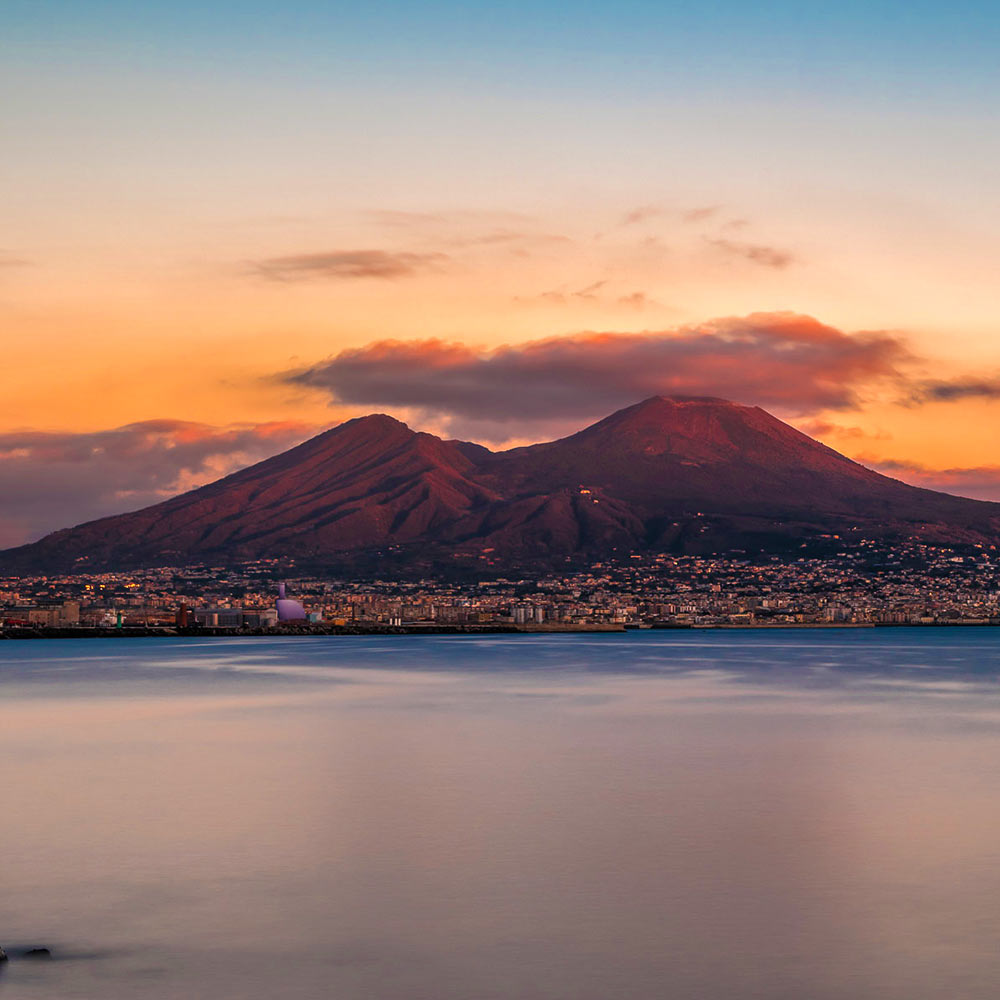 How To Get To Mount Vesuvius from Naples:
The buses to Mount Vesuvius leave from Piazza Piedigrotta in Naples and reach Mount Vesuvius in an hour and half.
10. THE ANCIENT CITY OF ROME
Though we would recommend spending as much time in Rome, it is still one of the popular day trips from Naples. Just a 1-hour train ride away, the earliest train departs at 6 AM and you can take a train back as late as 10 PM, so you get to spend an entire day exploring Rome.
Also Read: Here are a few perfect itineraries to see Rome in a day