Home to the breathtaking yet mysterious Angkor, Siem Reap in Cambodia witnesses a steady influx of tourists from around the world all year long. Sunrise at Angkor should definitely be on your list of things to do in Siem Reap, but don't leave Siem Reap just yet without witnessing some of the other attractions this town has to offer.
Also Read: How To See Angkor in One Day
NO, SIEM REAP IS NOT CHEAP!
The active currency for tourists in Cambodia is US dollar and it is accepted everywhere even by a Tuk-Tuk driver. The downside of this is that nothing comes cheaper that a dollar, not even a Tuk-Tuk ride, contradicting popular belief that Cambodia is a cheap country. Restaurants do not come cheap either, with a dish costing at least $5 and a drink not less that $7-$10.
If you are visiting other parts of Asia as well on your trip, refrain from shopping in Siem Reap. The prices you will see are purely for tourists, exorbitant than most countries in SE Asia.
Also Read: Where to stay in Siem Reap?
Top 5 Things To Do In Siem REAP Cambodia
VISIT THE FLOATING VILLAGES OF SIEM REAP
An incredible way to experience Cambodian life is to visit the rural communities that has settled along Tonle Sap Lake. These settlements move according to the level of water.
The popular floating villages are- Chong Khneas, Kampong Phluk, Kampong Khleang & Mechrey.
WATCH AN APSARA SHOW
Who is an Apsara?
In line with Hindu mythology, Apsaras are beautiful female creatures that visit Earth from heaven to entertain both gods and kings with their enchanting dance.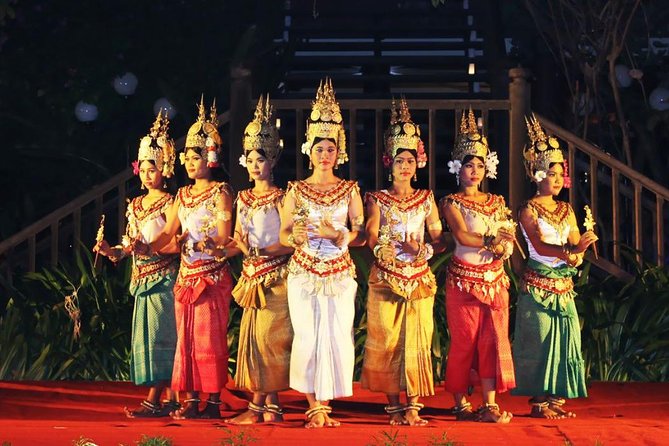 No trip to Cambodia is complete without witnessing an Apsara show. Apsara show to Cambodia is like belly dancing is to the Middle East. This century old dance form was revived in 1995 and has been popular ever since. The intricate movements, the silk tunics and elaborate golden headdress all adds to the charm of this dance form. Your hotel can guide you to the best show in town which is is usually followed by dinner.
SPEND AN EVENING AT PUB STREET
A rather unassuming market street by day gets transformed into a bar hopping paradise by sunset and its festive with cocktail & karaoke bars, tattoo parlours and exotic restaurants. It is the alter ego of Siem Reap- the mystic Angkor temples on one side and the Uber cool nightlife on the other.
Travel Tip: Try the most popular local beer- Anchor & Angkor & Rice Wine (18-25% ABV) in Siem Reap
Did You Know?
Cambodia does not have a minimum legal age when it comes to drinking.
FEAST ON SCORPIONS AND HOUSE SPECIAL-TARANTULA FRY
Yes, Tarantula fry is a Cambodian speciality best enjoyed at road side push carts. They also serve Beetles, Snakes and Scorpions. This might be the creepiest thing you do in Cambodia but if you want to experience something different, try it.
Why do Cambodians eat inspects?
Referred to as the hunger food during the famine in the 1970's, these bugs were in plenty and were the only source of protein, amino acids and micronutrients for the Cambodians. Today, it is still very much part of their cuisine.
ENJOY KHMER CUISINE
Khmer cuisine is greatly influenced by Thai and Vietnamese cuisines and rice is their staple food. There are a lot of vegetarian options in Khmer Cuisine
Must try Cambodian delicacies:
Samlor korkor- The National dish of Cambodia, it is a hearty soup made of catfish or pork and loaded with veggies.
Bai sach chrouk- Pork & rice
Kari sach moan: Chicken red curry
Bok trop pgnon- Pounded Eggplant dip
Khmer Curry- Mildly spiced coconut milk base with fish, meat, chicken or just vegetables. The ultimate comfort food.
Kha sach ko- Beef stewed in palm sugar