Unless you are deeply into archaeology or temple ruins, you can easily see the highlights of Angkor in one day. Start off your day with a magical sunrise at Angkor Wat and end the day with a gorgeous sunset at Angkor Thom.
WHY IS ANGKOR FAMOUS
The earth is believed to have chakras just like human beings. The lines that connect these chakras are called Ley lines. Angkor is built at a point where these energy lines intersect making it one of the most sacred sights on this planet.
A BIT OF HISTORY- WHO BUILT ANGKOR
The Cholas controlled peninsular India which extended until present day Malaysia and the chola emperor Suryavarman built Angkor in the 12th century. Angkor is a collection of about 72 temples, more are being excavated as you read this and the main sights that can be visited by tourists today are Angkor Wat (the main temple), Bayon, Ta Prohm. Koh Ker, Prea Khan, churning of the ocean of milk.
Angkor Wat faces the west, which is considered the direction of death in Hindu mythology and the temple is designed to be viewed in an anti clock wise direction, making many scholars conclude it to have served as a temple and a mausoleum.
The main temple of Angkor depicts the four yugas and a visitor entering the temple through the hallway to the main deity of Vishnu is metaphorically walking through the yugas to the creation of the universe. The amount of detailing that has gone into the making of these temples are beyond human understanding and makes one wonder of this great temple's past, the prodigious people this monument has witnessed, the civilization that has gone by and the wars it has seen. By now, you know how much we love history!
THE BEST TIME TO VISIT ANGKOR
Angkor was a peaceful abode visited by a few tourists until Tomb Raider happened. Some of Lara Croft:Tomb Raider's scenes were shot here, which skyrocketed the tourism with a majority of travellers visiting Cambodia solely for Angkor. Tourism to Angkor happens throughout the year but the peak is during the dry months from November until March.
HOW TO GET TO CAMBODIA
Visa on arrival is available for most nationalities and costs $60 per person (2020) to be paid in cash at the airport. This is by far the most chilled out airports we have visited. Our immigration officer was casually stamping passports whilst enjoying a movie on his phone (True Story!).
IS CAMBODIA CHEAP
Contrary to what most people assume, Cambodia despite being in Asia, is not a cheap destination. Why? Because of the magnificent Angkor temples that attracts the entire world to its feet. As this is the sole attraction that brings more than 90% of the tourists to Cambodia, the government has kept a high price tag on most tourist related activities. In addition, locals only accept USD from tourists so even menu cards in small restaurants are not in the local currency.
Also Read: Where to stay in Siem Reap?
TEMPLE ETIQUETTE-WHAT TO WEAR
As for all Asian temples, it is mandatory to cover shoulders and knees. As the tour involves a lot of walking and the paths are quite dusty, a loose fitting outfit with a hat/cap, shades and a comfortable pair of walking shoes is perfect.
HOW TO SEE ANGKOR IN ONE DAY
SUNRISE AT ANGKOR WAT
Sun rise at Angkor is very famous among tourists and the queue's start forming at the counter as early as 4:30 AM. The counter opens at 4:00 AM and depending on the tour you choose, a photo ID called the Angkor Pass is issued. You can opt for a cycle, tuk-tuk or car tour. The transportation can be arranged with your hotel or travel company but you can only book the tickets over the counter.
Also Read: How to plan your sunrise at Angkor Wat
ANGKOR THOM
Angkor Thom which translates to "the great city" was the last known capital of the Khmer empire. It is enclosed on all four sides by formidable walls and moats to protect the city from the deadliest of invaders. Bayon, the terrace of elephants, Baphuon are all here.
Bayon is at the heart of Angkor Thom and has 54 smiling faces of Avalotikeshwara (enlightened beings), which is said to depict the 54 provinces of Khmer Empire.
As the tourism legend goes, taking a nose to nose photo with one of the Avalotikeshwara faces will bring you good luck.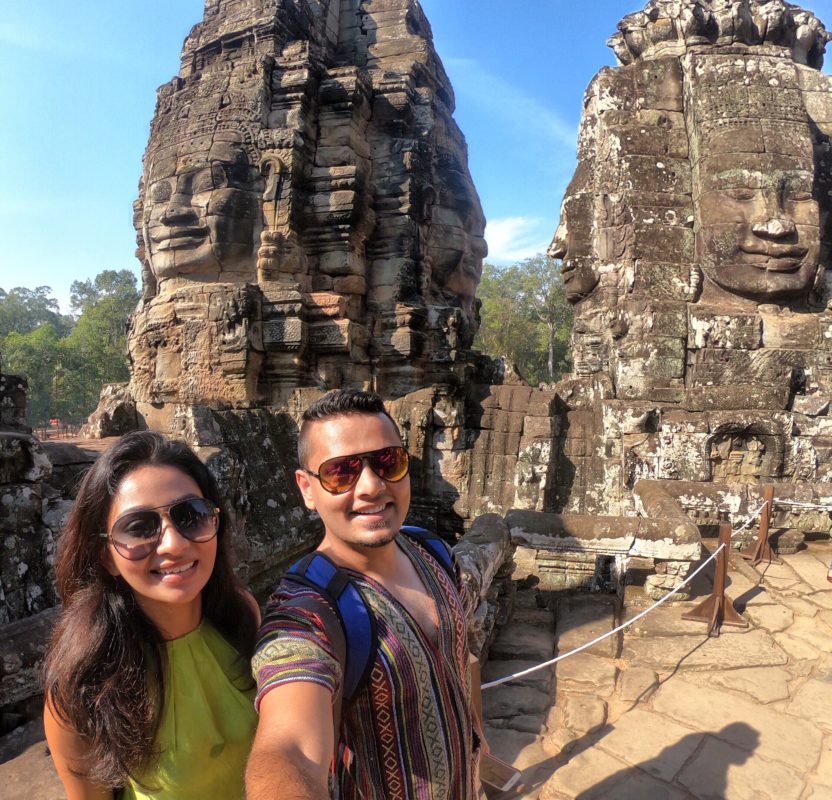 TA PROHM/ TOMB RAIDER TEMPLE
Our last stop was Ta Prohm, which catapulted Angkor to its present day fame. It was at this very temple that Tomb Raider was shot. It was built by Jayavarman VII for his mother with the inscriptions still intact on its inhabitants and dependants. Compared to the other temples, this temple is mostly in rumbles. In a poetic sense, the jungle was cleared by humanity to build this structure but now the jungle has reclaimed humanity. The Indian Archeology Department is working jointly with Cambodian government to resurrect this temple stone by stone.

SUNSET AT THE ANGKOR THOM MOAT
Sunset can be enjoyed from various points in this temple complex like Phnom Bakheng, Angkor Wat Moat, Pre Rup to name a few. We enjoyed the sunset and the reflections it cast at the Angkor Thom Moat.
DID WE ENJOY OUR ONE DAY TOUR?
REALITY CHECK! Angkor was on both our check lists and we were glad to tick it off. We wish we had not come during peak season, as we visited during January. By mid day, the crowds were uncontrollable, resulting in a lot of pushing and shoving. When you are in a site known for its spirituality, the least one could do is respect its sanctity and atmosphere. It is a shame that some tourists do not get it and in the process tarnish the experience for others.
Irrespective, the temples stand tall after centuries of misuse and destruction, shining for generations to come. We remain, to this day in awe of its history and architecture.