Year around sunshine, iconic beaches, happy people, happy dogs, hopping kangaroos, the immaculate ability to shorten even the shortest words, Sydney, has a visual WOW factor that very few cities possess. Scratch the surface and the capital city of 'Straya just gets better.
Though visiting this part of the world can be quite expensive, finding cheap treats was a fun mission we embarked on and loved every moment of it. Drumroll please, as we present our absolute favorite top 10 free things to do in Sydney!
HOW TO GET AROUND SYDNEY
Buses are the favorite means of transport used by locals as well as tourists. The bus network in Sydney is quite well connected, fast and the cheapest way to get around. Get an Opal card for absolutely free and credit can be loaded in the multiples of AUD $10/USD $7. Recharge can be done at most convenience stores.
TOP 10 FREE THINGS TO DO IN SYDNEY
SYDNEY OPERA HOUSE
You can't go to Australia and miss this iconic building. Brainchild of Danish architect Jørn Utzon, the design of this building was greatly influenced by Mayan architecture. There are many interesting stories surrounding the construction of this building and it took a whopping 17 years to complete. If you, like us, enjoy history, read on
Walk around the Opera House forecourt, through Farm Cove (along the Harbour) to Mrs Macquarie's Chair. Enjoy a picnic and be sure to catch an epic sunset here. In order to enter the Opera House, you need to buy tickets to a show. Else just pay a visit to the washroom for ABSOLUTELY FREE and thank us later.
THE ROCKS
Murders, Mysteries and Convicts!
The Rocks is the oldest part of Sydney and the first European settlement in Australia. Ships could easily anchor here and thus it became a penel colony. Convicts overflowing from Britain were transported here and made to fend for themselves. Surprisingly, no prisons were constructed in the area. The eight month gruelling journey from Britain to Australia was punishment enough in addition to the overwhelming climate and geographical conditions these Europeans had to face.
The original buildings here were built of sandstone hence the name Rocks. Now an upscale pedestrian street filled with cafe's, restaurants and boutiques, the history of this place makes it a fascinating place to visit. Explore the hidden alleys, pubs and historical buildings here with a 1.5 hour FREE walking tour.
HARBOUR BRIDGE WALK
There are three ways to do the Harbour Bridge Walk.
The FREE pedestrian walkway– Part of the Cahill Walk, the bridge walk takes about 20 minutes and you can enjoy some amazing views including those of the Sydney Opera House, the rocks and Fort Denison.
Pylon Lookout– If you are ready to climb a lot (A Lot!) of stairs, go up to the lookout point to enjoy 360 degree views of the bridge itself and the city. This will cost you USD $18.
The pricey bridge climb experience– It is a once in a life time opportunity to climb the most iconic bridge in the country and comes with a heavy price tag. Check prices and book your walk here.
By completing this walk you have thus ticked one off the 1001 walks you must experience before you die
BONDI BEACH
With over 10,000 beaches in Australia, the beach culture is unmissable. Head over the iconic Bondi beach to enjoy year around sun, sea and a few surfing lessons maybe?
While you are here, try the famous Bondi-Coogee cliff walk. 6 Kilometers long, this hike takes about 2 hours with the most spectacular views along the way. Check out our guide to the walk here

RUM HOSPITAL
For history buffs who enjoy a good story, just like us!
One out of 10 prisoners who were shipped into Australia died during the journey and many arrived ill. The then governor, after many failed requests to Britain for a hospital, devised another plan. In exchange for a monopoly to import Rum into the colony, a few contractors built a hospital which later went on to be known as the Rum Hospital. Rum was used as currency in those times and in a blink of an eye, these contractors were rich. A win-win!
The hospital's south wing is now known as The Mint, and the north wing is NSW Parliament House.
NEWTOWN
The hipster neighbourhood of Sydney, complete with awesome graffiti art adorned alleyways, great coffeeshops, delightful eateries and amazing thrift stores. Visit in the evenings to enjoy some street performances and pop-up stores. Be sure to try out the famous Watermelon Cake at Blackstar Pastries here.
Fun Fact: Coldplay's epic song 'A sky full of stars' was shot here
THE UNIVERSITY OF SYDNEY
HARRY POTTER FANS! This one is for you!
The Camperdown/Darlington campus of this university bears close resemblance to Hogwarts School of Witchcraft & Wizardry. Word spread and a handful of fans started trickling down campus. Today, Chinese tour companies have a Hogwarts tour package dedicated to HP fans visiting Sydney. Don't be surprised to see kids in Hogwarts robes clicking pictures here. While you are here, also check out the universities famous graffiti tunnel.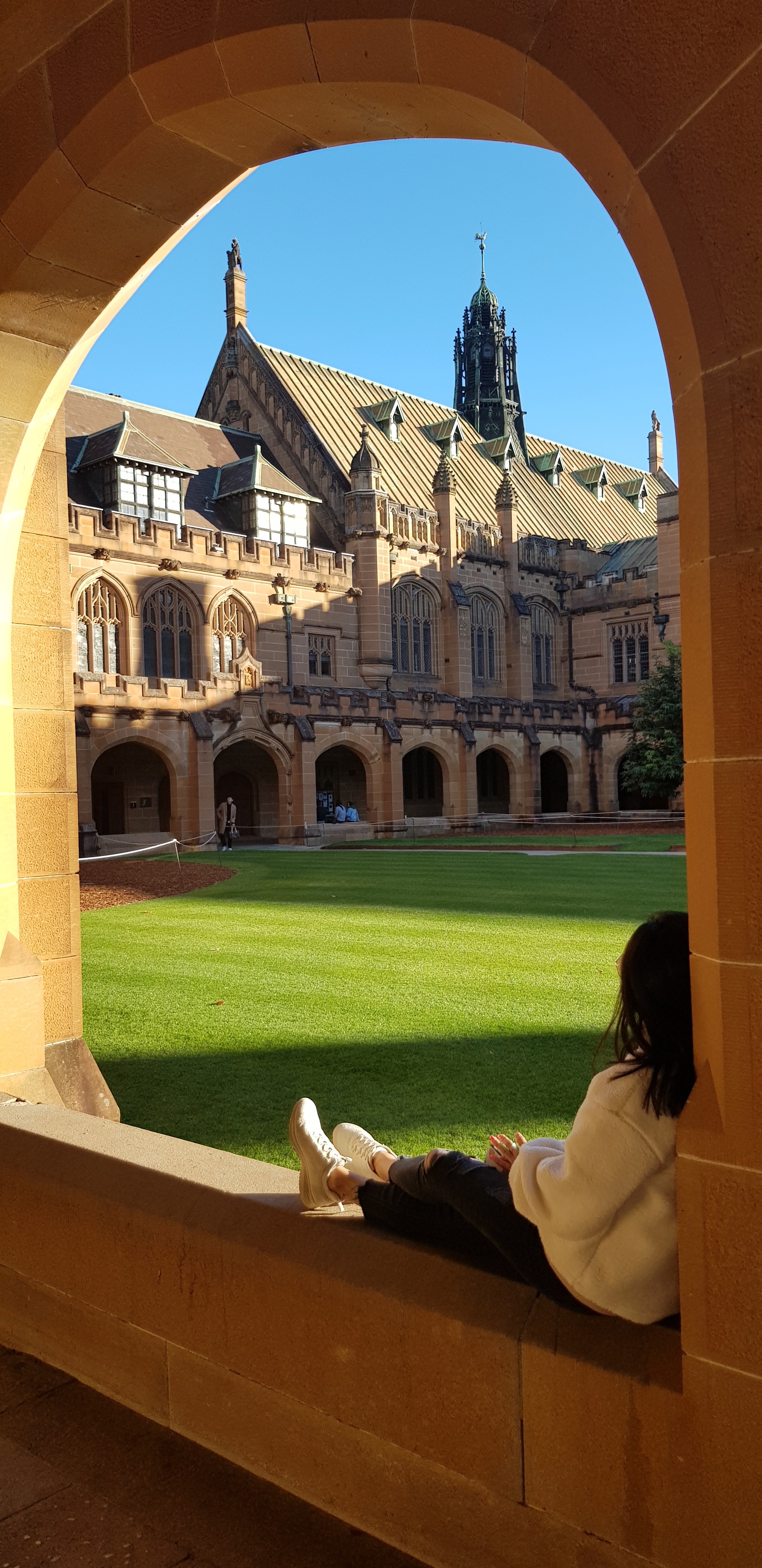 GREEN SQUARE LIBRARY
Instagram GOLD!
Located in a hip, newer part of Sydney, entrance to this library is absolutely FREE and offers some amazing photo opportunities for the 'gram.

ANGEL PLACE BIRD CAGES
You gotta love a city that commemorates the forgotten songs of 50 birds that were once heard here, before being forced out by human settlements. The calls, which filters down from a canopy of birdcages suspended above Angel Place, changes as day shifts to night; the daytime birds' songs disappearing with the sun, and those of the nocturnal birds, which inhabited the area, sounding into the evening.
Click here for the location
ST MARY'S CATHEDRAL
The best time to visit this gothic revival cathedral is early mornings or late afternoons. During this time, the sun streams in through the stain-glassed windows, interiors gleaming with its brilliance. This cathedral has an unusual north–south orientation rather than the traditional east–west one.