Bondi to Coogee coastal walk is loved by locals and tourists alike. This cliff walk that extends 6 Kilometers, offers stunning views of the bluest water, secluded beaches, cliffs and gorgeous rock pools. Bondi, being the epitome of Australia's beach culture remains crowded even during winter months. So we decided to do the walk in reverse instead, Coogee to Bondi Beach. Compared to Bondi, Coogee sees far lesser crowds.
How to get here
Buses are the best way to reach both beaches as finding parking can be a bit of challenge. Also the streets near these beaches are always crowded.
Buses to Coogee Beach
Bus 370 departs from Leichhardt via: Glebe, Newtown, University of NSW, Sydney University
Bus 372 departs from Central Station via: Surry Hills, Anzac Pde, Randwick
Bus 373 departs from Circular Quay via Elizabeth Street, Oxford Street, Anzac Pde, Randwick
Bus 374 departs from Circular Quay via: Elizabeth Street, Central Station(Eddy Ave) via Surry Hills, Anzac Pde, Randwick
Bus 353 departs from Eastgardens/Bondi Juction via Maroubra
Bus M50 departs from Drummoyne via Victoria Road, Central Station, Surry Hills, Anzac Parade, University of NSW, Randwick, Bondi Junction
Buses to Bondi Beach
Bus 333, 380, 389
Depart from Circular Quay via:
Elizabeth Street
Oxford Street
Bondi Junction
Best Time To Do Coogee to Bondi Coastal Walk
We did the hike in July which is officially winter in Australia. The temperature around this time was 18-19 C and was the perfect weather to hike as well as enjoy the views.There is a quite a bit of uphill and downhill climb so if you are planning the hike in summer, carry lots of water and sunscreen and be prepared to work up a sweat. The walk will last a good 2 hours. Reward yourself by hitting one of the amazing array of restaurants and cafe's at Bondi after the hike.
Early mornings are the best to do this walk. This will give you the prefect opportunity to catch the legendary Bondi Sunrise.
Check out the awesome restaurant options at Bondi here
Coastal Walk Route
Once you reach Coogee, this route on Google Maps can guide you all the way. There are a few gaps in the coastal walk, where you will have to hike through suburban areas until the coastal walk re-connects. Jogging on the coastal walk is epic and a local favourite. With the most amazing views, you will clock in more miles than usual.
Incredible Sights From The Coastal Walk
Ross Jones Memorial Rock Pool at Coogee Beach. Starting point of our coastal walk.
There are similar staircases throughout the walk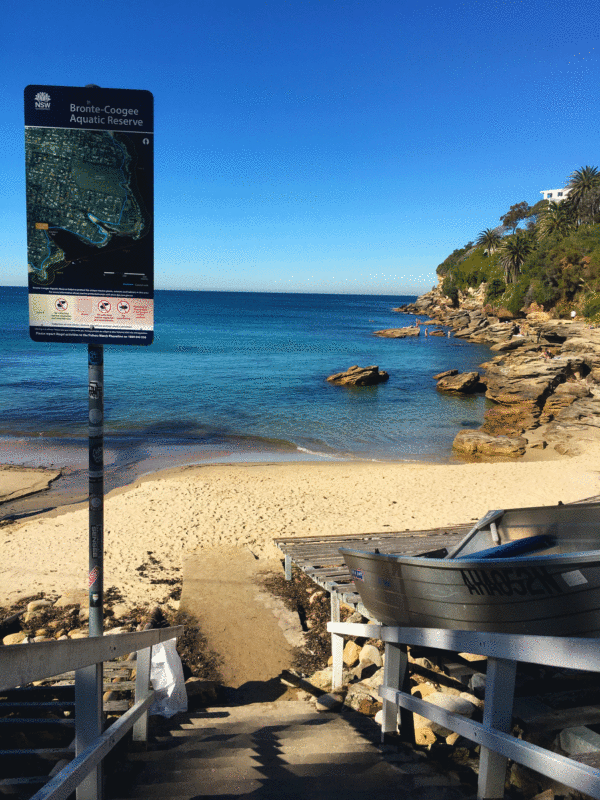 Dunningham Reserve-Connects Coogee to Gordon's Bay. This area is well equipped with toilets, playgrounds, picnic area, drinking fountains etc.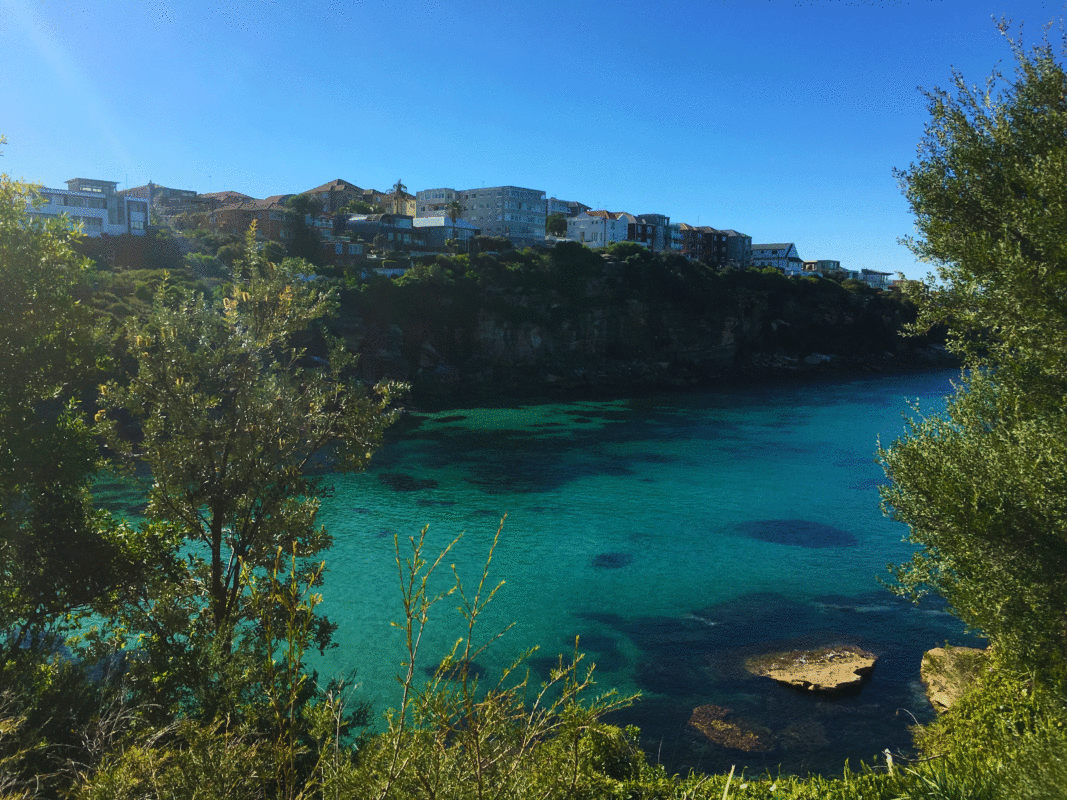 Views from Dunningham Reserve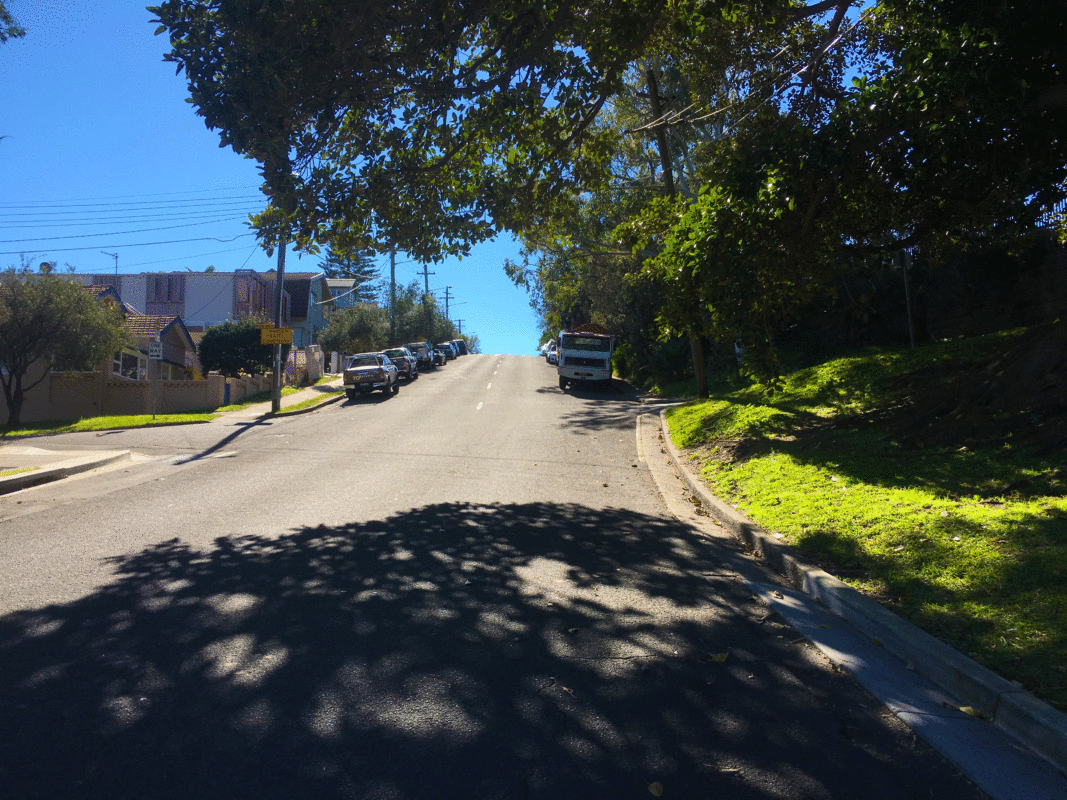 The coastal walk has a few gaps where the track diverts through Sydney's suburbs
Views along Tamarama to Bronte Beach
The famous Iceberg Pools at Bondi Beach
The best way to cool down after this coastal walk it to either take a plunge into the ocean or the infamous Iceberg Pools. Entry passes to the pool are available for as low as USD 6.