The Door to hell in Turkmenistan is a fiery crater in the middle of the Karakum desert that has lately been attracting a trickle of tourists to this once closed country of Turkmenistan. Having said that, Turkmenistan still features among the least visited countries of the world with a grand total of 13000 visitors in the year 2018.
The reason that this number has not risen drastically is due the difficulty in obtaining a tourist visa. Only a handful of government authorized tour operators can process your tourist visas. And to obtain a tourist visa, it is mandatory to book a tour package with them.
Another option is to apply for a transit visa (up to 5 days). A transit visa does not require any mandatory tour bookings but lately there is a high rate of rejection (50%) for these visas without any reason.
Also Read: The top sights to see in Turkmenistan
THE BACKSTORY TO THE DOOR TO HELL / DARVAZA
In 1971, close to a small Turkmen village deep within Karakum desert, a Soviet drilling rig accidentally drilled into a massive gas pocket, causing the ground around it to collapse and the rig to fall in. A huge hole was created and the poisonous gas started escaping at an alarming rate. So the Soviets decided to set the hole on fire in the hope that the gas will burn itself out in a weeks time. 50 years later, it is still burning.
A tourist stumbled upon this site and called it the Door To Hell, as the fiery glow can be seen from miles away and resembles the description of hell.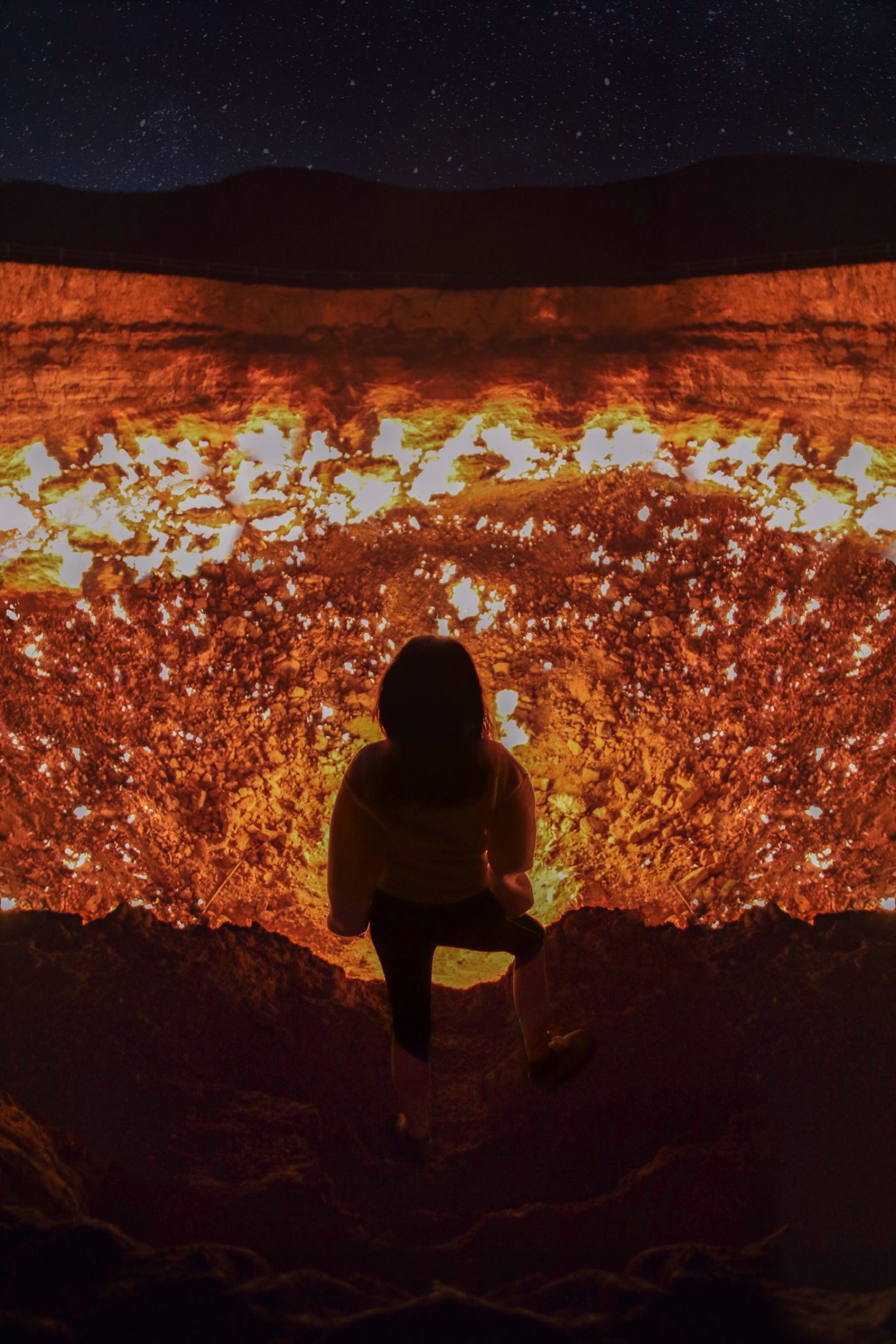 WHAT IS THE DOOR TO HELL LIKE TODAY
Though a phenomenon that is attracting people from around the world, to the locals, it remains a mistake that once was a shame for the country. Despite the increasing number of tourists who visit this site, no development has been made to accommodate them. In a way, the ruggedness and the lack of facilities adds to the overall charm of this crater.
There are a few yurts privately owned and operated and a public toilet close to the site. Some tour companies do offer overnight camping on site.
As of today, the crater not only serves as a tourist attraction, but also as an energy source for the nearby village.
HOW MUCH DOES A TOUR PACKAGE COST
There is a monopoly on tour packages due to which they are quite expensive. A half day city tour of Ashgabat along with the Door To Hell in a 4*4 can set you back $315 per person (2020).
Travel Tip: Travel to Turkmenistan when the weather is pleasant/during cooler months. Cooler weather will make you appreciate the crater much more, the warmth radiating from the crater in the cold desert makes the experience all the more magical.
HOW TO GET TO THE DOOR TO HELL
The Door To Hell is 260km away from the capital and takes 3.5-4 hours one way. It is best to visit late evening so you can experience it in both daylight and in pitch darkness.
BY PUBLIC TRANSPORT
Only transit visa holders can use public transport outside Ashgabat. There are two buses in the morning that leave from Ashgabat International Bus Station, one to Dashoguz and the other to Konye-Urgench. Both these buses pass the Darvaza village. From the village, there is a diversion into the desert that will take you to the crater. It is 7 kilometers in and unmarked so its best to take a taxi from the village.
BY AIR
There are multiple flights daily from Ashgabat to Dashoguz (50 minutes), but they are quite expensive for foreigners.
BY SHARED TAXI & MARSHRUTKA
Available to transit visa holders, this would cost approx. $50
ARRANGED BY A TOUR OPERATOR
A 4*4 vehicle with a driver and a very knowledgable guide will be ready to whisk you away to the Door To Hell. They will also arrange a nice picnic dinner by the crater. (Candle light dinners will never be the same!)
Travel Tip: After Ashgabat until the crater, toilet facilities are limited to the best bush you can find.
The drive to the crater is just a never-ending expanse of open desert with occasional flocks of camels crossing the road. En route, there is a mud and water crater. Though not as impressive as the Door To Hell, if you haven't seen a crater, it is a fascinating experience.
WHERE TO STAY
There are no hotels/accommodations near the crater. You can choose between a day trip or an over-night camping trip. As these are pre-booked tours everything from food to camping gear will be arranged by the company. Caravansitan offers overnight tours while Ayan Tours can arrange day trips with pick up from Ashgabat.
Transit visa holders can carry their own camping gear and camp onsite.
Pin It!