The administrative and religious capital, Kandy is famous for its tooth relic temple (a temple that has carefully preserved a tooth of Buddha) and that's pretty much it. Though rustic and pretty as the rest of the island, there are very few things to do in Kandy so we have listed our favorite picks.
Travel Tip: Indiana Jones in the Temple of Doom & The Second Jungle Book: Mowgli and Baloo were shot in Kandy, Sri Lanka.
Also Read: Self Driving Versus Hiring A Car With Driver in Sri Lanka
IS KANDY WORTH VISITING
You should visit Kandy to experience its culture and religious roots. If you love nature, the botanical garden here is definitely a must visit. Kandy is also a popular base from where people do day trips to Sigiryia and Nuwara Eliya. Other than that, there is nothing much to do in Kandy.
HOW MANY DAYS SHOULD YOU SPEND IN KANDY
You can see all the attractions in Kandy in a day so it is ideal to spend 1-2 days here. If you are planning day trips from Kandy, keep a day for each trip.
Also Read: Looking for a charming boutique hotel to stay in Kandy? Here are our top picks!
THINGS TO DO IN KANDY
Take A Stroll In The Royal Botanical Garden/ Peradeniya Botanical Garden
Entrance Ticket Cost: $15 per person (2020)
Once reserved exclusively for the Kandyan royals, now us, common folks can also enter this 60 acre botanical garden. It is home to priced orchids, a walkway lined with royal palms, Javan fig tree and a great expanse of lawn speckled with benches under shade of trees.
All you can do here is walk around so this is a perfect venue to burn off all that amazing Sri Lankan food.
Visit The Temple of the Sacred Tooth Relic
Visit the temple during the puja, (prayer) timings 5:30 – 6:45 AM, 9:30 to 11:00 AM, 6:30- 8:00 PM, preferably during morning hours when the inner chamber housing buddhas tooth is opened to the public. You cannot actually see the tooth as it is preserved in a gold stupa.
You will find freelance tour guides within the premise who will offer tours for around $3.
Travel Tip: The early morning prayers sees less tourist and you can get a good spot in front with a good view of the ceremony. You will need to cover shoulder & legs while at the temple
Visit The Bahiravokanda Vihara Buddha Statue
Entrance Ticket Cost: $1.33 per person
A 2km of uphill climb from the Temple of Sacred Tooth Relic, this buddha statue perched on a hill can be seen from pretty much anywhere in Kandy.
Travel Tip: The best to visit the temple at sunset when the statue is bathed in a golden hue. You need to cover shoulder and legs while at the temple. In case you forget, you can get a sarong wrap from the ticket counter.
Do The Three Temple Loop In Kandy
If you love history and architecture, head over to the Embekke, Lankathilake and Gadaladeniya temples, a few kilometers from Kandy.
Perched on a rocky hill, below is a 14th century temple which is half Buddhist and half Hindu. Set among rice fields, this unique temple should not be missed while in Kandy.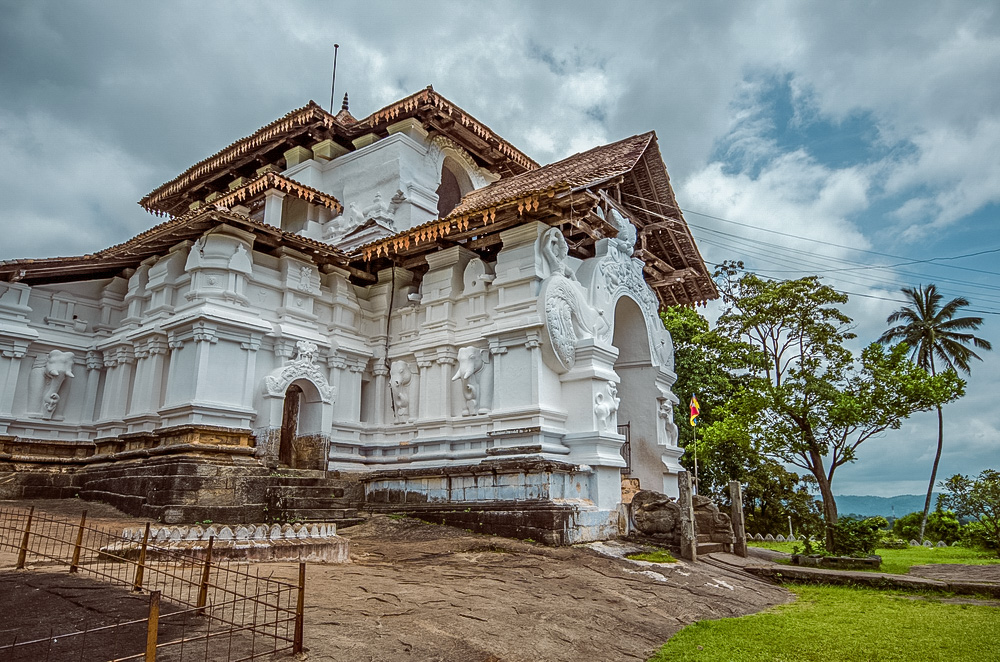 Kandy Snack Food Joints
Sri Lanka cuisine predominantly have a lot of short eats or snacks that the locals enjoy throughout the day. The popular short eats you need to try are fish cutlets, mutton rolls, watalapam, rotis, kithul Pani (yoghurt with treacle) and the best place to eat them are from various roadside eateries.
Do you like pancakes? Try the Sri Lankan version! (You are in for a treat and its nothing like you imagined)
Food Tip: These snacks are made fresh in the morning and the bestsellers are usually sold out by mid-day.