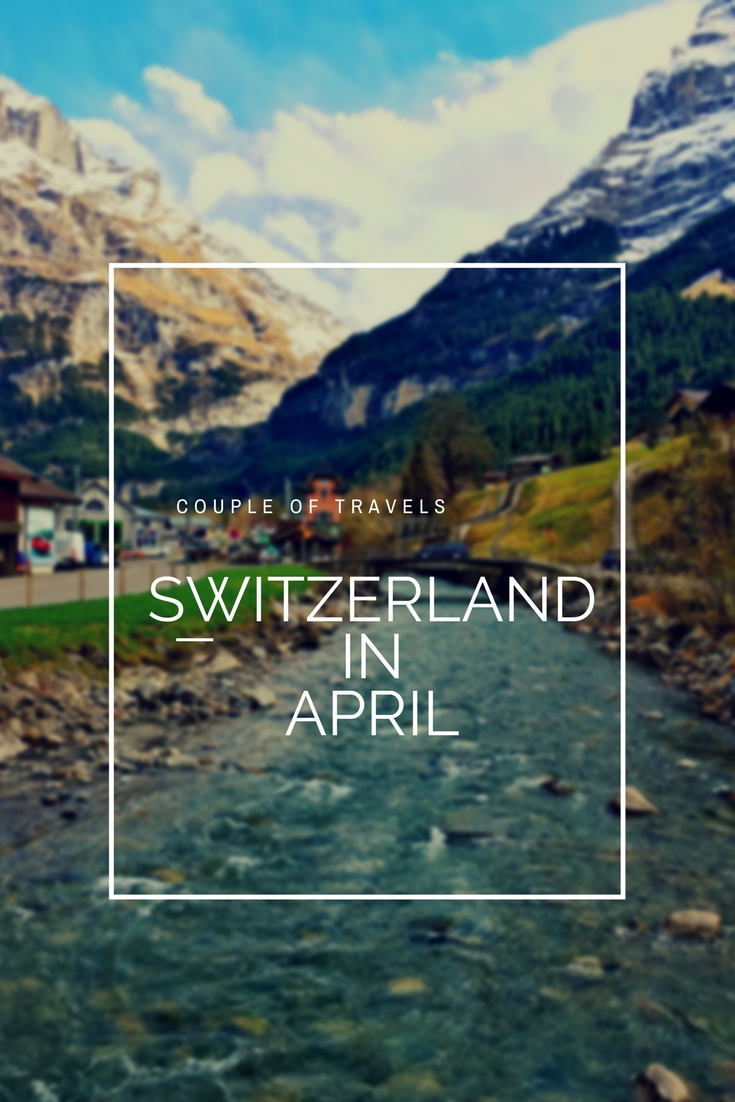 Who wouldn't fall in love with Switzerland? A country which holds so many promises, a country that promises to make your eyes wider,smiles bigger, days brighter, memories greater and wallets much lighter. Switzerland is how we always imagined it to be, heaven on earth!
Located in Central Europe, landlocked by France,Italy, Liechtenstein, Austria & Germany, Switzerland is known for its alps, beauty and its neutrality towards war. (When you live within such beauty & serenity, what is there to fight for?)
We visited Switzerland in April which meant cheaper hotels, quieter towns and mild to warm weather. On the downside, activities like mountain coaster, Zip-lining and other summer activities won't be available yet depending on the weather.
HOW TO GET TO SWITZERLAND
Pegasus offers good deals to Switzerland and EasyJet can get you bargains on internal flights within Europe. You can find more good deals on ClearTrip & Kayak, Skyscanner
HOW TO TRAVEL WITHIN SWITZERLAND
If you have been travelling within Europe prior to your trip to Switzerland, bear in mind that Euro Pass does not work here. The public transportation here is privatised, hence you need to get a Swiss Travel Pass.
You can also check out the ride-sharing app Blablahcar for cheaper transportation. As for driving in this country, it could give you more access to a select few places but there are no road connectivities to the mountain ranges.
Food is quite expensive in Switzerland like most other things. Supermarkets like Coop, Migros ,Olga are a favourite among budget travellers. Most hotels in Switzerland give you complimentary travel cards, which enables you to use the public transportation free of cost within that town.
Swiss Rail Website: www.sbb.ch
Approx. Cost for Swiss Pass- $120-$130 per person
WHAT TO SEE IN SWITZERLAND IN APRIL
MUSEE ET CHIENS FOUNDATION ST. BERNARD, MARTIGNY
Only a 5 minute cab ride from Martigny Railway Station, this museum is like none other. A lively museum devoted to St Bernard's coupled with fun activities.
The fun activity involves a 45 minute walk and playtime with these noble steeds. These activities are very popular hence booking in advance.
Website: www.fondation-barry.ch
email-info@fondation-barry.ch
Cost for walk- $30 per person
INTERLAKEN
One of the most touristy places in Switzerland, known for its lakes,sheer greenery and thrilling outdoor sports. Spend at least 3-4 days here due to the numerous activities to do in and around this town. Booking hotels in Interlaken can be a challenge year around as all the good hotels get sold out quite easily. The trick is to look for hotels in areas that has easy connectivity to Interlaken. We stayed at Wilderswil, which was quieter than some areas in Interlaken, yet just a 10 minute train ride away.
Check hotels in Wilderswil here
JUNGFRAUJOCH- TOP OF EUROPE
You need to get a head start to enjoy the peak in all its splendour. The first train starts at 6 AM from Interlaken and is available every hour.
The Top of Europe experience includes a trip to the Ice Palace, Lindt Chocolate Heaven, many dining options including a restaurant named Bollywood, worlds highest Tissot store featuring the top of Europe collection and fun activities in the snow with the best panoramic views.
Website: www.jungfrau.ch
Price- Approx. $200 per person
LAKE THUN & BRIENZ
While in Interlaken, be sure to hike along the turquoise waters of Lake Thun & Brienz, surrounded by frosty mountain peaks, craggy cliffs and waterfalls , tuning in on the distant chugging of trains and the sound of cowbells . The hiking trail is wonderful and the hike in itself may take several hours but it is totally worth it. You can also take boat rides to nearby villages and enjoy some kayaking here.
Other attractions in Interlaken include the St Beatus Caves ,Heimwehfluh, farm visits at Bonigan village and outdoor activities like Zip Lining, Base Jumping, Sky Diving, Gliding.
WENGEN & LAUTERBRUNNEN
Wengen is a ski town located at 1274 m above sea level and is usually a ghost town during off seasons. Wengen has a good downhill hiking trail that leads to the valley of Lauterbrunnen and the views all along the way are simply breathtaking. One of the attractions here is the Staubbach Falls. It offers spectacular views during early season when fed by melting snow. It used to be featured on Swiss stamps.
MURREN
Murren is a mountain village at 1650 m above sea level, not accessible by public roads. This car free village offers amazing views of the three prodigious mountains- Eiger , Monch & Jungfrau.
GRINDELWALD
An idyllic town, which serves as a gateway to the Jungfrau region during winter and has the most amazing hiking trails during summer.
The high-altitude walk from Grindelwald-First to the Schynige Platte ranks among the most beautiful hikes of the region.
LUGANO
A 3 hour train ride away from Zurich, Lugano is the Italian speaking town in southern Switzerland. The Italian influences are evident in the general landscape of the country and its architecture. Picturesque boulevards, palm trees, high end sports cars, the inevitable branded stores and the amazing views of Lake Lugano best describes this town.
HEIDILAND
If you are a big fan of the Japanese anime series-Heidi, you should not miss this place.This series painted a beautiful image of Switzerland's countryside and you can relive the same by taking a trip to Heidiland. Located in Eastern Switzerland, you can find many tour options from Zurich and nearby towns.
Website: www.heidiland.com
Email: info@heidiland.com
We travelled to Switzerland in April which is deemed as an off season. Though this would mean less crowds and cheaper rates, it also means that all the fun outdoor activities are closed. In some cases, even entire towns are shut down. Keeping this in mind can help you plan better.
Listed among the top 10 happiest countries in the world, Switzerland is a piece of heaven on earth.
HIGHLIGHTS OF SWITZERLAND
•Musee Et Chiens Fondation St. Bernard, Martigny
•Hiking trails along lake Thun/Brienz, Grindelwald
•Skiing,Water skiing, Sky Diving, Base Jumping,Hang Gliding & Zip Lining in Interlaken
•Ride the alpine coaster in Kandersteg
•Buy a Cow Bell
•Try the local farm fresh fruits
•Visit an animal farm
•Drink water straight from a stream
•Try Swiss cheese