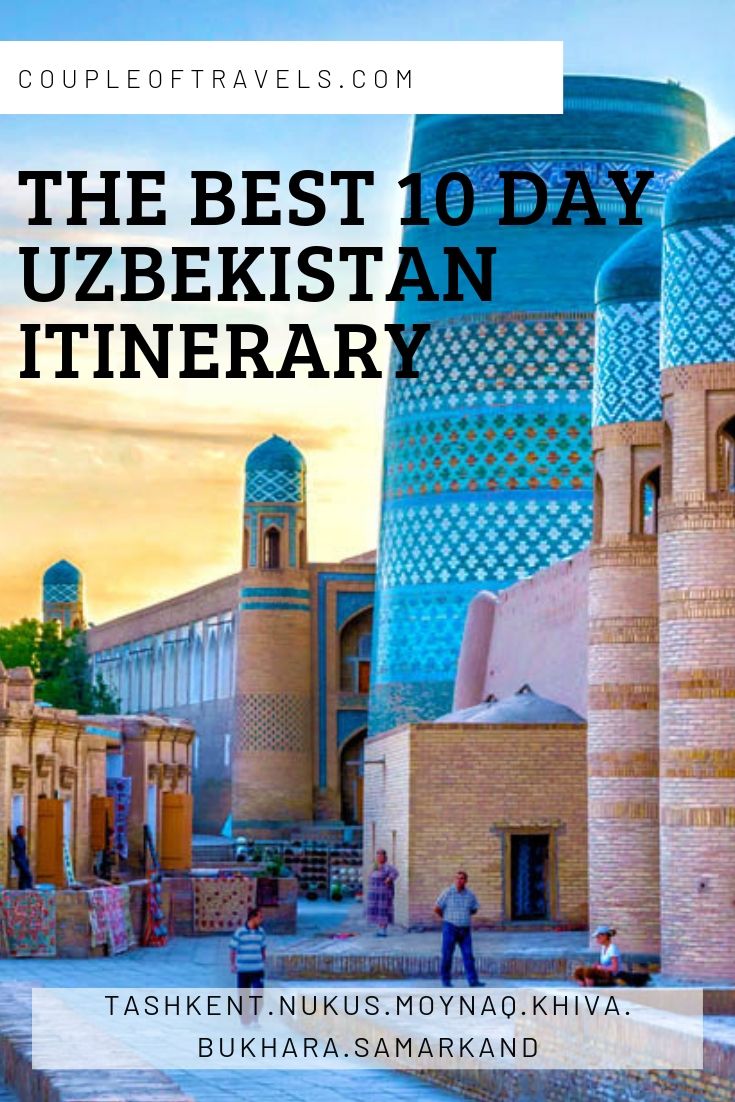 We love exploring non-touristy corners of the world and Uzbekistan is one of them. We clearly see this changing in the future as Central Asia is slowly but steadily clambering into every travelers checklist. We have curated this 10 day Uzbekistan itinerary that covers everything from Aral sea in the north to its capital city Tashkent. We have planned this itinerary carefully to ensure that you see as much as possible in 10 days.
Guys, it is going to be a super long post as we try to encapsulate a country as big as Uzbekistan in one article!
IS UZBEKISTAN SAFE?
When you choose an off beat location, safety is definitely a concern. After checking with a few solo female travelers and having spent some quality time here, rest assured, it is totally safe for tourists. Yes, there are a lot of strict regulations and you will find military officers stationed every where. But that is clearly a safety precaution and does not affect tourists in any way.
BEST TIME TO TRAVEL TO UZBEKISTAN
The best time to visit is either in Spring from April to May or Autumn from September to early November. The weather here is typically warm and dry but during these months it is bearable. Winter months from late November until March are very cold, but the skies remain clear and bright during this time, making it an excellent time to click photographs. Winter & peak Summer months are the quietest time of the year.
HOW TO GET AN UZBEKISTAN VISA
The country has currently relaxed its visa restrictions. Citizens of 108 countries can now get a single-entry e-visa, valid for 30 days. The processing time is 10-14 days. We applied through a travel agent in Dubai and got the visa in 3 days.
HOW TO GET TO UZBEKISTAN
BY AIR
Holidays by FlyDubai has some amazing packages year around which includes flights & hotel. They have direct flights from Dubai and is the first carrier to offer this service from the United Arab Emirates. Other direct flights include Emirates, Air Astana, TurkishAirlines, Aeroflot
BY LAND
Due to ongoing conflicts with bordering countries, crossing over by land is very unpredictable and a hassle. Though the process had sped up enormously since 2018, it is best to check here before crossing.
10-DAY UZBEKISTAN ITINERARY


DAY 1
TASHKENT
Most international flights arrive at the capital, Tashkent. The sights at Tashkent can be seen in a days time so you can devote the entire first day here exploring the city. After a days sightseeing, head to Caravan Restaurant for plate loads of Plov and other Uzbek delicacies. This restaurant is a favorite among the locals.
WHERE TO STAY IN TASHKENT
Radisson Blu

– A 20 min drive from the airport, Radisson is in a nice and quiet neighborhood.
Ichan Qala– 4 mins from the airport, a royal uzbek experience awaits you.
Topchan Hostel– Located in the Miradabad district in Tashkent, 3 Km away from airport and 2 km from Tashkent Central Station.
Wherever you stay in Uzbekistan, you will need to collect a receipt from the hotel/hostel confirming each days stay. This might be checked while leaving the country.
HOW TO GET AROUND TASHKENT
This is the fun bit. There are taxis in the capital but not as many as you see in other cities. If you stand by the road, some random car might stop and offer a ride and thats how we got around. As all our research prior to traveling showed that the country is extremely safe for tourists, we did not think twice before getting into these cars. These drivers do not speak english, so the best option is to show photos of the places you wish to go. A 20 minute ride to an attraction will cost you approx. $1.5. The capital is also connected by buses and metros.
TOP PLACES TO VISIT IN TASHKENT
The attractions at Tashkent can be seen in a day. We have kept Day 1 and Day 10 at Tashkent as most international flights fly only out of the capital. The best option would be to see the attractions on Day 1 and leave Day 10 for shopping and trying out hotspot restaurants in Tashkent.
Also Read: 6 Off-Beat places to visit in Tashkent.
DAY 2 & 3
NUKUS & MOYNAQ
Nukus is the sixth largest city and capital of the autonomous region of Karakalpakstan. The highlights of the city are the big boulevards and the soviet era apartment blocks. It is located near the Aral Sea and a day trip can be arranged from here to the ship cemetery.
Many travelers give this city a miss as its a desolate part of the country and takes a bit of effort to reach here. In case you are short on time, you can give this place a miss.
HOW TO GET TO NUKUS
BY AIR
The fastest way to reach Nukus is by air. Uzbekistan Airways has daily flights to Nukus and the travel time is 1.25 hours.
BY TRAIN
The cheapest option is to take an overnight train from Tashkent but the travel time is over 20 hours.
WHERE TO STAY IN NUKUS
TOP PLACES TO SEE IN NUKUS
Aral Sea & The Ship Cemetery, Moynaq– This haunted town was once a thriving fishing harbour. Along with the drying up of the sea, this region's livelihood also vanished. The current plight of the Aral sea gives us an eerie foresight into how the world could be if our natural resources are depleted. Something to think about before going on a clicking spree.
You can take a Marshrutka or shared taxi from Nukus to Moynaq. If you are going to Moynaq only to see Aral sea, you can book a tour with Bez Qala Tours.
Savitsky Art

Museum

– This one is strictly for those who enjoy art. This museum showcases many paintings that were banned during the Soviet era along with carpets, clothes and jewellery that reflect Karakalpakstan's culture.
If you would still like to explore the nooks and crannies of Nukus, Ellie of Backpack Adventures is your best virtual guide.
DAY 4 & 5
KHIVA
Of all the towns in Uzbekistan, Khiva is the most well preserved. Bathed in clay colored structures with specks of blue sparkling tile art, it literally looks like a city of sand castles.
HOW TO GET TO KHIVA
There are no trains connecting Nukus to Khiva. The best option is to take a shared taxi from the old Avtovokzal aka the South Bus Station (near the old Asaka-bank). These shared taxis will only leave once full and this may take time. The other option is to take a private car. It takes close to 4 hours to reach.
WHERE TO STAY IN KHIVA
TOP PLACES TO SEE IN KHIVA
You can buy a single ticket to see most attractions at Khiva and this ticket is valid for two days. It roughly costs about $10 per person. You can buy this ticket at the West Gate (main entrance) of Itchan Qala.
Itchan Kala – This open air museum is the most popular among tourists. Hire a guide here to explore the hidden alleyways. You can request for a personal guide at the ticket counter.
Juma Mosque – Right at the center of Itchan Kala, this unique mosque has 218 wooden columns supporting its roof.
Tash Hauli Palace- This palace of Khiva's Khans is one of the best examples of Asian secular architecture of the 19th century. This palace has more than 150 rooms and 9 courtyards.
Isfandiyar Palace – Close to Itchan Kala's West gate, this palace is known for its sheer opulence
Kuhna Ark – The Khiva ruler's fortress, this complex has excellent tile work and views.

Watchtower –Situated at the back right corner of the throne room in Kuhna Ark, the sunset views from this tower is worth the climb.

Kalta Minor Minaret – This is the famous turquoise-tiled minaret that comes to your screen every time you google "Khiva". This minaret has an unfortunate history behind it. Built by Mohammed Amin Khan, this minaret was to be the tallest structure in the country, visible all the way from Bukhara. Unfortunately Khan died mid-way construction and the structure was left behind unfinished.
DAY 6 & 7
BUKHARA
Bukhara is considered the holiest cities in Central Asia with most building over a 1000 years old. Most of the structures here are well preserved and this city gives you a glimpse of pre-Russian Turkestan.
HOW TO GET TO BUKHARA
BY TRAIN
It takes about 8 hours to reach Bukhara from Khiva by train. You can check schedules and book your tickets in advance with Advantour.
BY AIR
You can fly directly to Bukhara from Urgench Airport with Uzbekistan Airways.
BY ROAD
You can hire a private car or use a shared taxi. The journey usually takes a little more than 6 hours. But the roads are not in the best conditions so expect a bumpy ride. Pack a meal as there are no sit-in restaurants along the way.
WHERE TO STAY IN BUKHARA
TOP PLACES TO SEE IN BUKHARA
DAY 8 & 9
SAMARKAND
At the very top of the list of places to see in Uzbekistan is Samarkand. One of the most ancient cities of the world, Samarkand is as old as the ancient cities of Babylon and Rome. Just like the other countries along the Silk Route, Samarkand faced many foreign invasions including those of Alexander the Great, Genghis Khan conquest, Arab invasions and lastly Amir Timur. What is now left behind is a beautiful potpourri of Iranian, Indian, Mongol and a bit of Western cultures.
Also Read: Everything You Need To Know About Samarkhand
HOW TO GET TO SAMARKAND
BY TRAIN
The fastest and cheapest way is by bullet train. Check train schedules and book your tickets in advance with Advantour.
BY ROAD
Shared taxis/ buses operate in this route and can get you to to Samarkand is less than 5 hours.
WHERE TO STAY IN SAMARKAND
TOP PLACES TO VISIT IN SAMARKAND
Registan – The centerpiece of Samarkand, this azure mosaicked wonder was believed to house wall to wall bazaars in its hey day. This structure has stood the test of time and earthquakes, a testimonial to the outstanding craftsmanship behind it. Registan has an impressive presence and is a photographers dream.
Gur-E-Amir – A mausoleum that marks the final resting place of Timur, this stunning building was the inspiration behind Shah Jahan's Taj Mahal. Shah Jahan was related to Amir Timur.
Shah-I-Zinda – This site is covered in a hue of liquid blue and is a complex of masoluems and temples. Shah-I-Zinda is considered to have the richest tile works in the world.
Bibi-Khanym Mosque – Legend says that Bibi-Khanym, Timur's Chinese wife, ordered this mosque to be built as a surprise while he was away.
Ulugh Beg Observatory – it showcases some of the world's most advanced astronomical studies led by a Timurid ruler. The observatory was ahead of its time and the exactness of observations recorded here by the Samarkand astronomers was amazing because they were made without the help of optical instruments, with the unaided eye.
DAY 10
TASHKENT
Spend the last day in leisure covering any spillovers from Day 1. You can also use this day for bargain hunting at Chor Bazaar. TIP:Do not plan souvenir shopping at the airport as they have a very small shop at the departures terminal and everything is priced in Euros making it at least 10 times more expensive than the shops outside.