Ever rolling lush tea estates greet you from both sides of the road as you enter Nuwara Eliya, popularly nicknamed, "Little England". Nuwara Eliya was once a getaway town for the British & Scottish tea plantation workers and to this date, there is a clear english country feel to this place.
We have made a list of things to do in Nuwara Eliya, carefully avoiding some of the hotspots mentioned online like Gregory lake,Victoria Park, Hakgala gardens etc because they are very touristy and honestly we did not feel that it captured the beauty of Nuwara Eliya.
Also Read: Planning a stop over at Kandy? Here is our Must-Do In Kandy Checklist
THE BEST TIME TO VISIT NUWARA ELIYA
It rains very frequently in Nuwara Eliya. March & April are considered dry months but occasional showers can be expected during these months too.
Rains actually make Nuwara Eliya magical but rains are usually followed by mist which affects visibility.
UNIQUE PLACES TO STAY IN NUWARA ELIYA
THINGS TO DO IN NUWARA ELIYA
Visit The Pedro Tea Estate
You are in Nuwara Eliya to see tea estates and you can get an uninterrupted view of them at the Pedro Tea Estate. Enjoy a cup of pure Ceylon tea and take a stroll through the tea estates here. They also offer private tea plucking and a tea factory tour
Travel Tip: Due to frequent rains, there are leeches all around these tea estates. In case you find leeches crawling on your feet, immediately rub salt in.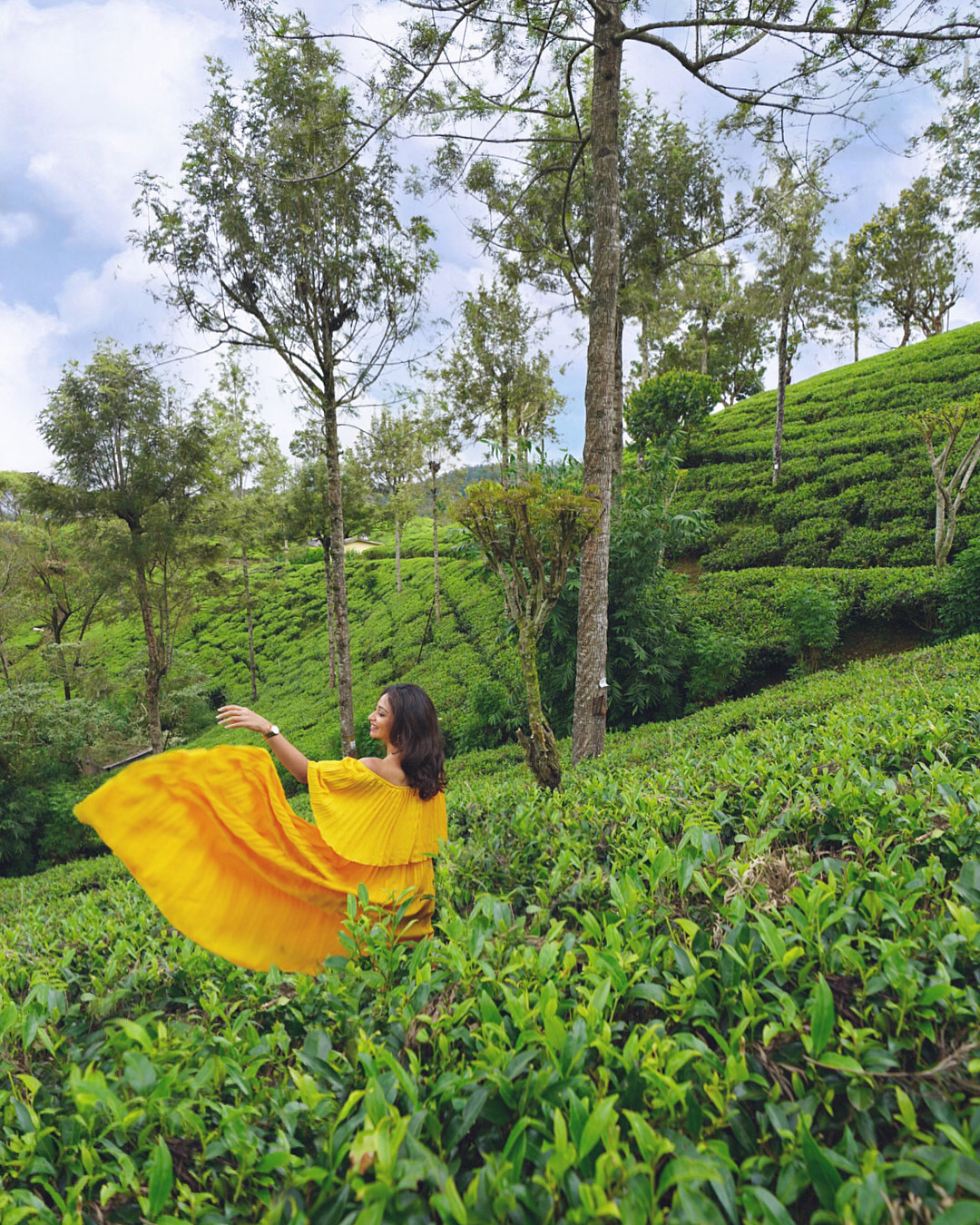 Hike To Lovers Leap
Located within the Pedro estates, Lovers Leap waterfall as the name suggests has a predictable backstory of a young prince and his love, who jump into the fall to escape the soldiers of the king. On a poetic note, each water droplet that falls is an eulogy to their love for each other.
To get to the waterfall, you can take a Tuk-Tuk to the entrance of Pedro Tea Estate. There is sign that marks the start of the trail, which is a 40 minute up-hill though not a very strenuous hike.
Enjoy High-Tea At The Grand
When you are in a heavily British influenced hill town, you need to try their famous afternoon tea, which includes some delicious finger food and you can choose from a wide variety of Sri Lanka's finest tea.
The tea party runs from 3:30 PM until 6 PM and reservations are advised during peak season. The hotel also offers unique dining experiences including dining in the boiler room/laundry room. Coffee Bar- known for its amazing coffee and delectable pastries is also located in this hotel.
Hike To The World's End
Horton's Plain is 28 kilometers from Nuwara Eliya city centre. You can reach here by Tuk-Tuk or shared van (3 people or more). An 9.5 km round trip, the hike to the Worlds End at Horton Plains usually takes a leisurely 3 hours. Early morning (between 6 AM-10 AM) is the perfect time to reach the World's End to enjoy epic views, before the clouds roll in. The view is especially obscured by mist during the monsoon season (April- September).