The beautiful island of Sri Lanka cannot be fully enjoyed over a weekend but it certainly does qualify for a weekend trip if you live in close proximity like us and also keep your itinerary simple. You will need to a build an itinerary that steers clear of the infamous traffic bottlenecks, with less road time and more attractions.
TRAVELING WITHIN SRI LANKA
When it is a weekend trip, you might want to steer clear of driving yourself (it is going to be tiring, trust us!) and look at alternate options. You could consider hiring a car with driver or look for day tours. We went ahead with Leopard Holidays after an exhaustive online research. It costed us $188 (2019) for the below itinerary.
Also Read: Self driving versus hiring a car with driver in Sri Lanka, which is the best option?
A THREE DAY SRI LANKA ITINERARY
Foremost rule for the perfect weekend getaway is to keep your itinerary simple. This Sri Lanka itinerary will be a small nibble into the juicy island of Sri Lanka.
Itinerary At A Glance
Day 1 – Minneriya National Park & Kandy
Day 2- Nuwara Eliya
Day 3- Kandy & Colombo
DAY 1
ELEPHANT SAFARI AT MINNERIYA NATIONAL PARK
A trip to Sri Lanka is not complete without the majestic Asian elephants. If you research on the popular sanctuaries, you are sure to come across some hard hitting comments on mistreatment in most places. So our advice is to stick to national parks alone and give all the privately run sanctuaries a miss.
119 kilometers from Bandaranaike International Airport, Minneriya National Park is also home to Peacocks, Eagles, Pelicans, Parrots, Crane, Parakeet, Owl, Hornbill and also other animals like Monkeys, Deers, Wild Rabbits, Wild Boars & Foxes if you are lucky.
Jungle safaris are done twice daily at 6:30 AM and 3:00 PM. Find more information and book your tour here
KANDY
Just 22.5 kilometers from Minneriya National Park, Kandy is your ideal town to set base for the rest of your break. Kandy is home to the famous botanical garden, historical buildings, beautiful buddhist temples and just a stone throw away from rolling tea estates of Nuwara Eliya.
Also read: | Things to do in Kandy | Where to find authentic Sri Lankan food in Kandy |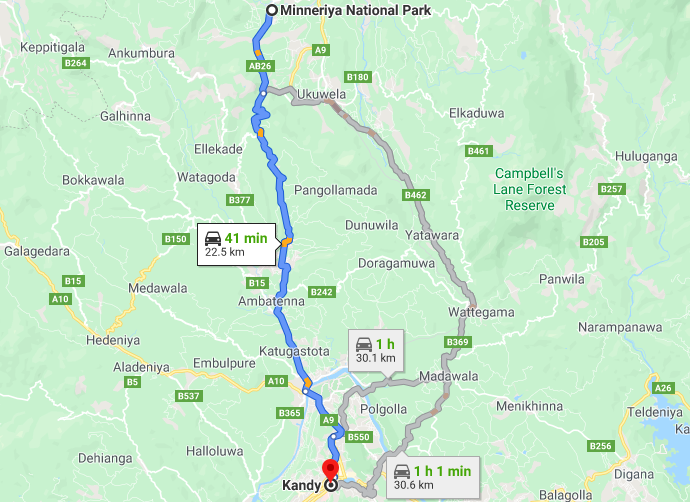 WHERE TO STAY IN KANDY
Luxury Picks
Pocket Friendly
Hostels
Also Read: Charming Boutique Hotels In Kandy
DAY 2
VISIT THE TEA ESTATES OF NUWARA ELIYA
76.2 kilometers from Kandy, slightly chilly weather and ever rolling lush greenery awaits you at Nuwara Eliya. Get a head start early in the morning and prepare for a long drive ahead (which is pretty much the case any where in Lanka).
You can either spend a whole day at Nuwara and return to Kandy by late evening or stay a night.
Also Read: Things To Do & Where To Stay In Nuwara Eliya